Because consumer demand, kitchen capacity and rolling promotions mean that restaurant profitability is a sliding scale, Sauce is a tech startup urging restaurants to take a cue from the hotel, airline and car rental industries by pricing their products on a similarly variable spectrum.
Understandably, the knee-jerk concern of any restaurant operator considering variable pricing is angry customers noticing their meal is 70 cents more expensive than yesterday, but the LA-based company says its client experiences show diners hardly bat an eye—if they notice prices changing at all.
Outside of foodservice, customers are well accustomed to constantly shifting prices. Utilities like electricity and water, as well as retailers in a host of different categories all change prices related to any number of internal or external pressures—from product availability to cold weather leading to a surge of snowbirds buying plane tickets for beach vacations.
As Sauce argues, the restaurant industry is no less complex than these other categories, especially when one includes the complexity of selling food on a host of third-party platforms like DoorDash, Uber Eats and Grubhub.
Pricing as optimization play
Founded in 2020, and already boosted by two modest fundraising rounds, Sauce co-founder and CEO Colin Webb's background includes time working for GM's Cruise autonomous vehicle arm, founding a retail real estate company and an ongoing board membership at the Massachusetts Institute of Technology.
Having previously worked in restaurants, and with friends and family in the business, co-founders Webb and Nenye Anagbogu saw the potential to use data and technology to improve profit margins for restaurant operators, and let them focus on their staff, guests and food.
While that focus-on-what-you're-good-at refrain is common in the restaurant tech space, their focus on pricing models is relatively fresh, even in an industry that's spent years pointing to hotels, airlines and retail as sources for lessons that could be applied in restaurants, too.
"Restaurants rarely find the time and resources to bring on a team of data scientists or to be the best at pricing or at the technology they're using, so we sought to close that gap," Webb said. "We found there's actually a really easy way to make tremendously more profits and get tremendously more customers without them having to do anything at all."
Referring to the "gold mine" of data that restaurants and delivery platforms collect about customers, Sauce says that information and real-time sales information is more than enough to help it suggest hourly price fluctuations, while also managing delivery platform promotions so it all works together to optimize kitchen capacity and unit-level restaurant profitability.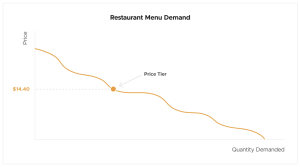 Webb calls it an "optimization play" that's been mastered in several industries that have as many complex inputs and cost pressures as the restaurant industry, even before the rise of delivery and some operators cooking multiple brands out of one kitchen.
If a restaurant has been on DoorDash, Grubhub, Uber Eats and Postmates for years, Webb said, that's copious amounts of historical sales data that can be analyzed in concert with real-time demand to set the ideal price for this unique moment in time. That pricing is also compared with nearby restaurants in a given market for additional points of reference.
"Think of it as similar to groceries or hotels or airlines where you have these interfaces and these marketplaces in which prices are changing for consumers all the time and the sellers are able to not only get more profits from there, but they're also able to provide better deals for customers, deals that bring them in," he added.
Managing demand on the fly
Faizan Khan is a Dog Haus franchisee with three locations in Northern Virginia and the Washington D.C. metro area who recently started working with Sauce and recommends the service.
Aside from running the Dog Haus brand, both for in-store dining, takeout and delivery, Khan's restaurants also operate some of the company's Absolute Brands virtual concepts that are only available for delivery and takeout.
A natural tech guy, Khan said he's always looking at different technology solutions to optimize the restaurant, and said working with Sauce has been significantly beneficial for his online sales, noting that he doesn't use dynamic pricing for in-store diners.
"Operationally, we set a base price and Sauce helps us manage that base price, which helps us a lot because all of this is fairly new," adding that Dog Haus is his first taste of the restaurant industry. "I don't know if it's an Uber Eats issue, for example, or administrators, but sometimes our prices change and not where we want them to be. Sauce helps us on the base price and maximizes based on demand for increasing volume."
He could implement variable pricing for in-store diners, but that would require digital menu boards to make ongoing changes as easy as off-premises orders.
Citing the elasticity of demand, which is the economic rule driving the change in consumption of a product related to a change in its price, Khan said he was never skeptical of the concept—and that his customers have not reacted negatively to changing price points.
In his locations, he sets a price for third-party delivery platforms that include "a little bit of inflation" and then sets an upward boundary that's 20 percent higher that Sauce can work within. In the future, he might expand that range to include pricing discounts, rather than just increases, to drive demand—on demand.
He said he's come down on the side of price increases, rather than discounts, because he doesn't want to "kill the kitchen." While that mindset could lower volumes, he also was mindful about impacting in-store sales and morale of his kitchen staff.
"I'm looking at it from a macro perspective, so based on Sauce's reporting, their value-add is about…$3,800 per week in additional income," he said. "There's definitely value coming in from it that I would be missing out on."
Khan added that, for delivery and takeout orders on third-party platforms, customers have so many choices, but understand that such orders include paying a premium for the convenience.
Thrifty weekenders
Webb said Sauce's typical charge for operators ranges from $100 to $200/month for each location, which he claimed results in a 5X average return on investment for multi-unit restaurants.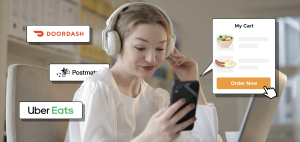 He added that Sauce is continuing to uncover more nuanced customer reactions to different pricing, which will add additional complexity into its software.
"We're discovering different levels of demand sensitivity to different price points," he said. "We're also discovering different levels of demand sensitivity as it relates to price tiers and also as it relates to the time of day and time of week."
Asked if any of its findings on consumer behavior are surprising, Webb said several experiments show consumers are less sensitive to price increases on weekdays, meaning they're paying closer attention to menu item pricing on weekends. That point was used to underscore the complexity of dynamic pricing, and customers reacting differently depending on where they're located.
Oftentimes, restaurants will turn on a promotion, leave it running, and use a combination of eyes and gut-checks to figure out if it's working or not, which he characterized as a largely unsophisticated, uninformed approach to unit-level economics.
"If they want to change anything there, they can work with us to update that strategy, but essentially we're continuously testing out all of their promotions and canceling promotions that aren't performing as well," he added. "So, you have this strategy where you're continuously finding the better and better promotions that are going to drive you to the biggest return on your investment."