According to new consumer spending data from Bloomberg Second Measure, Gopuff is seeing strong U.S. sales growth that the research firm said corresponds with an expanding customer base and increased spending per customer.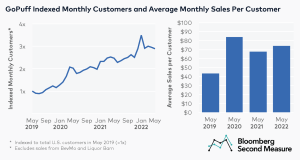 Going back to the company's founding in Philadelphia in 2013, the delivery provider of snacks, drinks, alcohol and other goods saw its May 2022 sales increase 391 percent compared with May of 2019—which is skewed because of how nascent the instant delivery category was three years ago. A more sober measure, year-over-year sales, grew 28 percent.
The company has also added prepared foods and partnered with Uber Eats on "everyday essentials," which have undoubtedly contributed to the surge in sales.
"Gopuff experienced a notable sales boost in the early months of the pandemic, with sales increasing 172 percent between February and April of 2020," the report stated. "The company also had a major spike in sales in January 2022, growing 35 percent month-over-month. A potential reason for the January sales growth is that rapid delivery companies like Gopuff reportedly experienced heightened demand for COVID-19 rapid tests as the omicron wave surged. Gopuff also launched its own private label products that month."
Its customer base is also growing, up 17 percent year over year, and 189 percent higher this May compared with May 2019. Average monthly sales per customer have fluctuated, settling at approximately $75 in the most recent period.
Bloomberg Second Measure pointed to Gopuff reaching new locations, now in more than 1,000 cities. Last October, Gopuff launched in New York City, and it has also expanded to the U.K. and France outside of North America. International spending was not included in the analysis.
"Ahead of a potential Gopuff IPO, the company is still chasing profitability," Bloomberg Second Measure added. "Earlier this year, Gopuff increased its delivery fees and order minimum, in addition to closing some warehouses and cutting 3 percent of its global workforce. Last year, Gopuff was valued at $15 billion."