Grubhub announced a partnership that will bring Gopuff's groceries, virtual restaurants, convenience goods, alcohol and household essentials to the third-largest U.S. delivery provider's marketplace. The tie-up begins with a pilot starting immediately in New York City, Los Angeles, Chicago, Boston, Philadelphia and Austin. 
According to the formal announcement, the partnership will begin at hundreds of Gopuff locations across the country in the coming weeks. Gopuff's employees will complete deliveries of all orders placed on the Grubhub platform.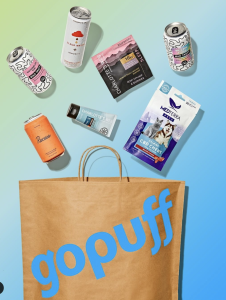 The partnership dramatically expands Grubhub's selection of convenience items available to diners, including grocery, alcohol, health and wellness, household, pet and baby supplies, and opens up a new channel for Gopuff to reach more customers. 
"We're excited to partner with Gopuff to give our diners more choice than ever before," said Ariella Kurshan, senior vice president of growth at Grubhub. "Our diners are managing busy schedules with competing priorities, and they want to plan not only their meals but also their lifestyle. Diners now have more options when it comes to ordering fresh food, grocery items, snacks, and alcohol—all from the convenience of the Grubhub app. These expanded offerings complement Grubhub's vast restaurant network and keep diners engaged across the Grubhub Marketplace."
"Expanding Gopuff's platform allows us to meet consumers' immediate needs anywhere they shop," said Daniel Folkman, senior vice president of business at Gopuff. "By combining our broad assortment, logistics network and infrastructure with the virtual storefronts of Grubhub, we can create more seamless one-stop shopping experiences for Gopuff's unparalleled one-stop shopping experience."
In the coming weeks, thousands of products will be available for delivery from more than 500 Gopuff locations, including virtual concepts. Alcohol will be available in select cities as well. Gopuff will launch virtual concepts for diners on Grubhub, including its pizza brand, The Mean Tomato, Gopuff Liquor, and virtual menus for brands including Unilever.
At launch, Gopuff locations will also be included in Grubhub+, Grubhub's membership program. The two companies said diners who order convenience items on Grubhub place more orders from restaurants in the following month than those who do not order convenience items.