In a new collection of guest sentiment data from the feedback platform Tattle, the customer is not all that happy and off-premises experiences especially could have been better.
Overall, sentiment since January 2021 has declined across the board. Dine-in, takeout and delivery have all dipped in Tattle's look at nearly 200 brands and 10,000 locations in the system.

The dip in dine-in satisfaction was not exceptional, but takeout and delivery both declined more, according to Tattle founder and CEO Alex Beltrani.
"It's not supernatural that food quality, speed, packaging and overall quality are all steadily plummeting. Dine-in has been fairly even keel because that's been the norm forever," said Beltrani. "This tells me that restaurants are still in adaptation mode."
He said it makes sense, as restaurants are beset by a lot of issues from staffing to supply chain and trying to balance a new and growing segments of the business as dine-in traffic returns across the country.
In essence, restaurants are reverting to old ways of doing business while there is a huge portion of new business in the form of off premises and delivery. Those who built a business on those verticals are doing just fine when it comes to guest sentiment according to the results.
"There are some verticals that have been doing takeout and delivery forever. I think you see that in pizza brands, they generally excel. We have a few others, more Chinese or ramen noodles that are doing well—that segment has always been doing a bit of takeout and delivery," said Beltrani.
Taco brands, burger brands and upscale casual brands are the exact opposite. Where presentation matters, off-premises sentiment tends to suffer. Further upscale, it's worse. That's where the value equation gets difficult for consumers, they are not happy paying more for a worse experience.
"Where we see more dissatisfaction is where ticket prices are higher, they're being hit hard," said Beltrani.
As seen in the chart to the right, packaging and speed of service are a major drag on consumer sentiment. Value is the worst drag on satisfaction, and helps capture how consumers are expecting a better experience for the price, something Beltrani sees in the data.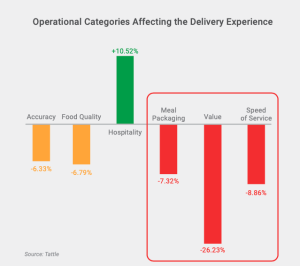 "Value is holistic, value correlates with overall satisfaction at .9, so basically any issue overall satisfaction will be hit as will value," said Beltrani.
Virtual brands seem to be seeing issues, potentially do to increased dine-in business pulling more attention from a "fractional revenue opportunity." That's a difficult problem to solve as it may be systematic, as Beltrani sees it.
"You're targeting another restaurant owner who maybe built a living flipping burgers or serving tacos at their business. You bring them this fractional revenue opportunity, and it might represent 10 percent of revenue you bring in a new brand, the team has no familiarity with the brand and the team is distracted from the core business," said Beltrani. "So, they get fractional attention and care."
All that adds up to some poor sentiment around virtual brands in the last year. Despite the explosive growth in the industry, "There is a huge need in this space to learn from customer feedback and identify areas to work on," said Beltrani.
Pickup scored the very worst among operational categories, showing a lot of room for improvement. Beltrani said there are still a lot of issues in what is likely a new way of doing business for a lot of brands, and certainly one that requires some thinking.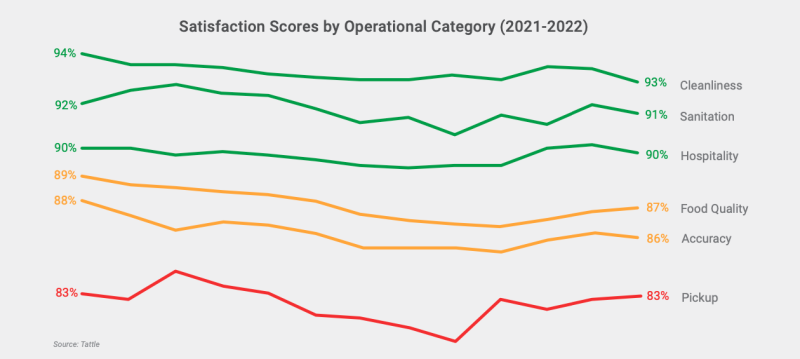 "It's probably a new procedure for a lot of these brands, we see in a lot of brands that there's no pickup flow. They're maybe working with a front-of-house person. There's this impasse when you arrive, 'Do I stand in line, where do I go?'" said Beltrani. "With pickup, these are all areas that get better with tech and time. When you go to a Shake Shack there's your name on a board, this is where you are in the process. But we're still in this educational phase as an industry."
But with great challenges come great opportunities! Beltrani said some of Tattle's partner brands started off with some low sentiment around off-premises. He called out Dave's Hot Chicken as getting some less-than-ideal feedback early on in the brand's off-premises education, but it's "on fire now" as one of the fastest-growing fast-casual brands. Same with Melt Shop in New York, it's doing "quite well" delivering grilled cheese, one of the most sensitive items in delivery.
Take a look at the full report by clicking here.