Much has changed since Uber integrated Latin American grocery delivery provider, Cornershop, onto its platform two years ago. Now that U.S. online grocery sales are an $80-billion-dollar category in the U.S., Uber is updating the experience for merchants, customers and couriers who can now pick and pack grocery orders. The rideshare giant calls it "by far our most comprehensive update yet" of its grocery service.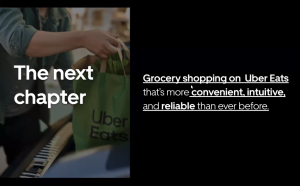 "We are betting in a huge way on grocery," said Oskar Hjertonsson, global head of grocery at Uber and co-founder and CEO of Cornershop, during an online product unveiling. "With our massive global brand, our 100 million plus active user base and logistics network, along with our product and engineering muscles, I think we're in a great position to build a great grocery business in the U.S. and around the globe."
Starting next week in select cities and rolling out across the U.S. throughout the rest of this summer, Uber is introducing a new in-app ordering experience that doesn't rely on web view integration, which Hjertonsson said was done when the company wanted to quickly integrated Cornershop grocery delivery onto the Uber Eats platform.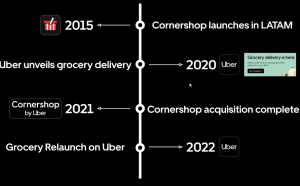 The new ordering experience is faster, more visually pleasing, and will also make shopping for groceries on Uber Eats more convenient, and more reliable—while adding new-to-the-platform features for shoppers.
Therese Lim, Uber's senior director of grocery and new verticals product team, said closed store shopping means users can now buy their groceries even if a given store is closed. Then, consumers can schedule a time slot for delivery, whether that's the first available window once the store opens or another time that's more convenient.
Lim said consumer feedback showed this to be a huge priority for users, which she said makes sense since only being able to grocery shop when stores are open is unlike nearly every other online shopping category.
Customer support that's available at any hour is also being included, along with live order tracking that allows customers to follow their picker's progress throughout the store, with the ability to chat or offer feedback and approval for recommended suggestions.
For couriers that elect to pick grocery orders in addition to driving deliveries, barcode scanning will help ensure order accuracy, so customers are getting the exact right cereal, as one example. If a specific product is out of stock, customers can proactively provide the courier with their next preferred item, another response to consumer feedback.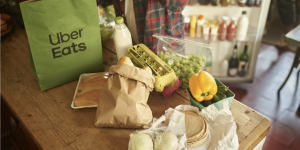 Grocery merchants will now be able to offer more products for sale that are priced by weight. Calling this a "very foundational feature", Lim said this would include things like steaks or boxes of cherries that are priced by weight inside grocery stores. This is a benefit to merchants, she said, because it will allow an easy expansion of SKUs that can be listed on the Uber Eats platform.
Citing a number of relatives who are immunocompromised or elderly, Lim said these updates were "personally really meaningful" to her life.
"My experience over the past years has started to make me question and ask why…the paradigms we're stuck with in terms of being able to shop for groceries always involve a constraint instead of a possibility," she added.
These new features do not include the ability for customers to pick up online orders themselves, but Lim said "we're actively looking at all types of opportunities" including self-pickup.
During a Q&A session, a reporter asked about the impact of inflation and higher food prices on online grocery demand. Hjertonsson said "the Cornershop business is having more of a flattish moment," noting that the size of the grocery opportunity remains one of the biggest items in the consumer share wallet.
"We feel pretty good about unlocking this new use case with our existing consumer and new user base," he said. "We consider this a very large business opportunity."