After purchasing a majority stake in Latin America's Cornershop grocery delivery service, Uber has announced a dramatic expansion of its grocery delivery offering into select cities in Latin America, Canada and, later this month, the United States. With the promise of more markets coming online soon, Uber has positioned this rollout as a significant part of its plans to find new opportunities for growth after the pandemic significantly curtailed ride-hailing volumes in cities across the globe.
This product launch comes after grocery delivery experiments with more than 9,500 merchants in more than 30 countries on Uber Eats, where Uber has seen a 176 percent increase in grocery orders since February. Following this integration in select cities in Brazil, Chile, Colombia, Peru and Canada, Uber plans to roll out improvements to the grocery experience for shoppers and merchants alike globally, throughout the summer of 2020 and beyond.
Cities launching this week with Uber x Cornershop include: Campinas, Goiânia, Belo Horizonte, Brasília, Curitiba, Porto Alegre, Salvador, Concepción, La Serena, Santiago, Valparaíso, Bogotá, Lima, Florianópolis, Recife, Rio de Janeiro, Sao Paulo, Montreal, Toronto. U.S. launches in Miami and Dallas will be coming later this month.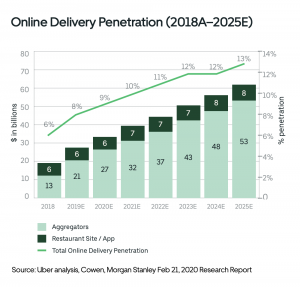 "Uber started on the premise that people should be able to more easily get to the places they need to go, and to people they care about. This has since evolved to connecting people to food from their favorite local restaurants, and we are thrilled to bring our product expertise to the world of grocery alongside the Cornershop team, said Raj Beri, Uber's global head of grocery.
In describing the grocery delivery service, Uber Eats' Head of Product Daniel Danker said the experience will be "dead simple" for consumers. "If you're using the Uber or Uber Eats apps, [you] don't need to log in or enter new payment info … Ride Pass and Eats Pass will include grocery, and that will be free delivery on orders over $30."
Danker added that because of the pandemic, local commerce has been "forever transformed" and that grocery delivery made sense in a pre-COVID world, but it's even more important for the company and consumers now that the world "has fundamentally changed."
Like many online grocery shopping portals, the Uber service offers a much different ordering interface than its restaurant offering. Consumers will have the ability to search by product types, browse virtual aisles, see relevant promotions while shopping, and be able to quickly add quantity or remove items from the virtual shopping cart.
The founder and CEO of Cornershop, Oskar Hjertonsson, said this partnership was a "proud and happy moment" for the five-year-old brand based in Santiago, Chile.
"To be invited to serve on Uber's platform is a testament to the hard work that our team has put in over the years," he said. "On top of quality, our customers expect that we deliver our groceries in beautiful weird bags, they expect our communication style … to be fast, accurate and sometimes playful," noting that Cornershop's branding, technology and customer approach is a natural combination with those of Uber.
For the industry, it's yet another high-dollar sign that the worlds of grocery and meal delivery are coming closer together, a process that's been dramatically accelerated by the pandemic that's led to many shoppers trying online grocery delivery for the first time—and evidence suggests the convenience is nearly as sticky as meal delivery has been in recent years.
"We are joining an increasing [number] of Latin American companies that are showing the world that Latin America can also export software innovation," Hjertonsson added. "This announcement concludes a year of waiting and preparing and planning and dreaming, and I'm excited we finally get to work together with our new friends."