An early partnership with DoorDash boosted Nimbus Kitchen right out of the gate, but the nascent ghost kitchen operator has plans to keep expanding in New York before covering the East Coast and, eventually, drifting westward.
Compared to other ghost kitchens focusing on retail partnerships, filling their bays with franchised brands or getting into the business of food production, Nimbus has a three-pronged business model focused on hourly users, local restaurants and programming to attract foot traffic from the surrounding neighborhood. The goal is building spaces where you can still pick up or have food delivered like any ghost kitchen, but where you can also sit down with friends and experience up-and-coming culinary concepts.
This differentiated-yet-digestible template is partially the brainchild of co-founder and CEO Camilla Opperman who doesn't have a traditional hospitality background, but was an early employee at Away, the online luggage company with a close-to-the-consumer distribution model.
Opperman always knew she wanted to start her own business and, because she loved running a late-night snack shack during her college days, she eventually left Away and focused on building a hospitality brand of her own. That led her to begin searching "high and low" throughout New York City for a kitchen space to get started.
That quest was both more and less fruitful than envisioned. She was aware of CloudKitchens and what she characterized as its expensive rent structure, even though it didn't have space in New York at the time. She was also dismayed by both long- and short-term shared kitchens that seemed operationally inefficient or required long-term leases that weren't a fit for a business idea that wasn't even fully formed.
"There's gotta be something in between," Opperman thought at the time. "But I realized there wasn't, so I came up with this crazy idea of starting Nimbus, candidly, a business I had no business getting into."
While she's quick to list the challenges in ghost kitchens, from finding just-right real estate to fundraising and municipal approvals, she soon realized her supply chain experience at Away was more beneficial than anticipated. She began to exclusively focus on building a ghost kitchen company that brought kitchens closer to the consumer, but didn't have the flagship rental rates or long-term commitments of other options on the market.
"I worked in distribution and fulfillment specifically, so I was going around opening these warehouses around the country that were supposed to be as close to the end consumer as possible to make sure that [Away's] suitcases could get to the customer as cheaply as possible," she said. "That same model is exactly what we're doing with Nimbus, but instead of shipping suitcases, we're producing food and trying to get it to those end consumers as quickly as possible."
During 2019, as the basic idea for Nimbus took shape, Opperman and fellow co-founder Samantha Slager raised money for what was originally planned to be a network of hourly kitchens for early-stage culinary entrepreneurs—the ghost kitchen as a business incubator. They planned to begin construction in March of 2020, but then COVID came onto the scene and brought everything to a halt.
With time to kill in those early months of 2020, Opperman reached out on LinkedIn to a DoorDash employee involved with its DoorDash Kitchens ghost kitchen project in California. She pitched the company on being its ghost kitchen partner to test out an evolved version of its Kitchens concept in New York.
"I said, 'Hey, we're building these kitchens. You're clearly not a kitchen operator, you know tech, you know restaurant sales, but you are not good at running a kitchen—this is not your bread and butter—we can be that partner for you," she recalled. "Candidly, with no leg to stand on—we didn't even have a unit at this point, very overconfident—they said, 'Sure, we'd love to try it out.'"
That resulted in the largest U.S.-based delivery provider becoming the anchor tenant in the first Nimbus facility in Manhattan's Lower East Side—not a bad score for such a hail mary. DoorDash rented seven of nine available full-time units and also handled sub-leasing the spaces. It was successful enough that DoorDash ended up moving to Nimbus' second space in Brooklyn, just across the East River.
"From the perspective of setting these operators up for success and making sure that they are the best people to be in the space, it's been amazing," Opperman said of the partnership, which is set to continue through 2024. "DoorDash knows where people are searching for sushi and there is no sushi supply. They know the best performing operators in Manhattan and can say, 'Hey, let's bring you over to Brooklyn.'"
DoorDash wasn't the only early win for Nimbus. It also hosted a team from Noma, Chef René Redzepi's three-Michelin-star restaurant located in Denmark, as well as a pop-up with Netflix and another with Subway. Headliners aside, however, the team is focused on local brands and early-stage operators that need spaces—even just a kitchen on an hourly basis—to test a concept before scaling it up.
Opperman said that the business incubator factor also helps charm local officials, which is a key part of any ghost kitchen project. It also helps spread the word among the types of creators and operators Nimbus hopes to attract to future locations.
"Over 80 percent of our brands are female owned, over 50 percent are minority owned and operators and that helps, as opposed to saying, 'Hey, we're opening a ghost kitchen with Wendy's, Little Caesars [which is a tenant] and Pizza Hut,'" she said. "The nature of our model makes it a lot easier, the fact that we have that community space."
Programming as a service
As Nimbus rolls over to its three-year-anniversary, it has seen many of its operator clients flip between the two business models, starting as renting hourly spaces, finding success and then leasing longer-term spaces, but also the inverse where longer-term tenants add hourly space as overflow, like on Super Bowl Sunday, for example.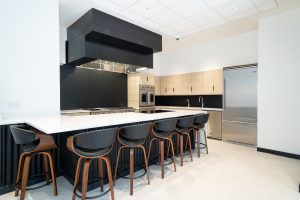 Planned programming has also gained importance during that time, with a greater focus on using its community event spaces as a platform for operators to get their names out to the broader community through pop-up dinners, tasting events, cocktail-making classes and other activities ultimately designed to promote the tenants.
Asked why such events are so critical, Opperman said she hasn't seen many successful virtual-only concepts and believes many will ultimately fail. Finding long-term success requires a branding component to make any concept viable in her view, but it also gets at the experience of going out to eat compared to eating takeout at home.
"At least for me, the joy of going out to eat or the joy of having a meal is being able to sit around a dinner table with somebody and engage with them or sitting shoulder-to-shoulder with somebody and the buzz of being in a restaurant," she said. "You lose that with traditional delivery, so we're really focused on solving for that by providing that infrastructure piece, instead of having a brand where a customer just comes, picks up and goes and eats" at home.
Building in a public-facing component to a ghost kitchen isn't a new idea, but Opperman returned to the company's three-part model of hourly and longer-term rentals paired with that bustling front-of-the-house space as a combination that's working in New York, which has proven to be a challenging market for other shared-kitchen operators.
That formula may change, the CEO said, once the company can expand beyond its home market—which won't happen until more units are added in additional New York neighborhoods. Nimbus plans to open its third location, on the Upper West Side, sometime in the next 12 to 14 months.
"If we were to pop up in Minneapolis, we need to be really careful about the mix of those hourly kitchens versus the dedicated kitchens," she said. "Where does it make sense for us to even operate, for our kitchens to be a viable place for these people to come and work, so a lot of work needs to be done there before we expand beyond New York City."
Like so many others in the restaurant space, Nimbus has also right-sized its longer-term growth plans during the last few years, partially due to the challenges of building and approving ghost kitchens, but also by shifting its strategy to finding growth within its existing spaces.
"We used to always say 100 facilities by 2025—no, that's not going to happen," she added. "We can be realistic about that. I think by 2025, so in the next three years, we'll likely have 10 to 20 facilities max. I have to be realistic with myself—I've always been overly ambitious—I have to be realistic about how long it takes to build these spaces."