Serve Robotics has raised $30 million in new financing to continue growing, while simultaneously announcing a complex merger that effectively makes the San Francisco-based company a public entity.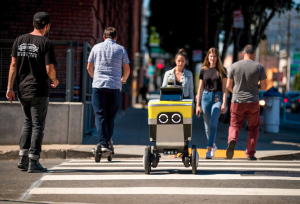 With participation from Uber Technologies and NVIDIA, the latest investment brings its total amount raised since 2021 to $56 million. In a press release announcement, the company said these latest moves will support the deployment of up to 2,000 new AI-powered sidewalk delivery robots. 
There's a lot to digest in this latest announcement. Concurrent with the raise of new capital and conversion of existing convertible notes, Serve also completed a reverse merger with Patricia Acquisition Corp, which is a public corporation based in Delaware. As a result, Serve will become a wholly owned subsidiary of Patricia, and Patricia will change its name to Serve Robotics. 
The financing was led by existing investors, including Uber, NVIDIA, and Wavemaker Partners, with participation from new investors Mark Tompkins and Republic Deal Room. The transaction was sponsored by Montrose Capital Partners. Network 1 Financial Securities (as consulted by Intuitive Venture Partners) and Aegis Capital Corp served as co-placement agents.
Uber Vice President of Delivery and Head of Americas, Sarfraz Maredia has joined the Company's board, effective immediately. Serve Robotics was spun off from Uber in late 2021 following the ride-share and delivery giant's acquisition of Postmates. 
These new funds will enable Serve to enter new markets across the United States and further advance its AI-powered mobility platform. The company will also begin scaling up its robotic fleet to meet massive and rapidly-increasing customer demand for last mile automation, including fulfilling its commercial agreement to deploy up to 2,000 robots with Uber Eats.
"We're thrilled that our core strategic partners Uber and NVIDIA continue to back Serve as we work to bring sustainable, autonomous delivery to every doorstep in the next five years," said Dr. Ali Kashani, co-founder and CEO of Serve. "Serve's delivery volume has grown over 30 percent month-over-month on average for the past 18 months. Becoming a public company provides broader access to capital, supporting our continued growth as we ramp up our partnership with the world's largest food delivery platform and expand other enterprise partnerships."