Shortly after announcing its move into the convenience-store space, DoorDash, the largest third-party delivery service in the U.S., announced its first move into grocery through partnerships with grocers across the country.
Customers in the Bay Area, Los Angeles, Orange County, Sacramento, San Diego and the Central Coast can order from Smart & Final. Customers in Chicago, Cincinnati, Milwaukee, Detroit and Indianapolis can order through Meijer and Fresh Thyme. In the coming weeks, DoorDash will be adding selection across the country with additional grocery brands including Hy-Vee, Gristedes/D'agostino—giving more than 75 million Americans access to a grocery store on DoorDash.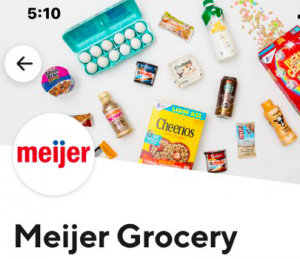 "DoorDash's on-demand grocery service is a nice addition to our online shopping options and with delivery in under an hour, we know Smart & Final customers are going to appreciate it," said Navin Cotton, director of digital commerce at Smart & Final.
This launch follows a multi-year journey in grocery for DoorDash, after spinning up its Drive offering that enables direct delivery for grocery brands including Walmart, Hy-Vee, and Coborn's, as well as additional regional and local grocery stores.
"In today's ever-changing environment, customers want quality products delivered in an efficient manner straight to their homes," said Tom Crocker, Hy-Vee's senior vice president, e-commerce. "This new service helps us grow our grocery business while meeting the needs of our shoppers who are on-the-go."
All of these grocery partners are now part of DashPass, DoorDash's subscription service that offers members unlimited free deliveries and reduced service fees.
The company added that this move also brings ready-to-eat meals from many providers, including Wegmans, Hy-Vee, Gelson's, Kowalski's, Big Y World Class Markets, Food City, Village Supermarkets, Save Mart, Lucky, Lucky California, Coborn's, and others.