Because everything in the restaurant universe seems like a roll of the dice these days, SeeLevel HX's title for its FODC presentation on its latest survey, "Are you gambling on your customers?", seems apropos.
Vice President of Operations and Partner Donna Goodwin gave an overview of the survey results along with moderator Nicholas Upton, news editor of Food On Demand, and Kal Kuchimanchi, head of operations for U.S. and Canada Uber Eats, one of the delivery services surveyed, put the information in perspective. Atlanta-based SeeLevel provides companies with custom marketing research using sources such as mystery shoppers and surveys.
The most recent survey based on the customer experiences from four third-party delivery providers was completed between February and March 2020, by 240 mystery shoppers in three cities, Atlanta, Austin and San Diego. Both lunches and dinners were ordered from the four services:  Doordash, Grubhub, Postmates and Uber Eats.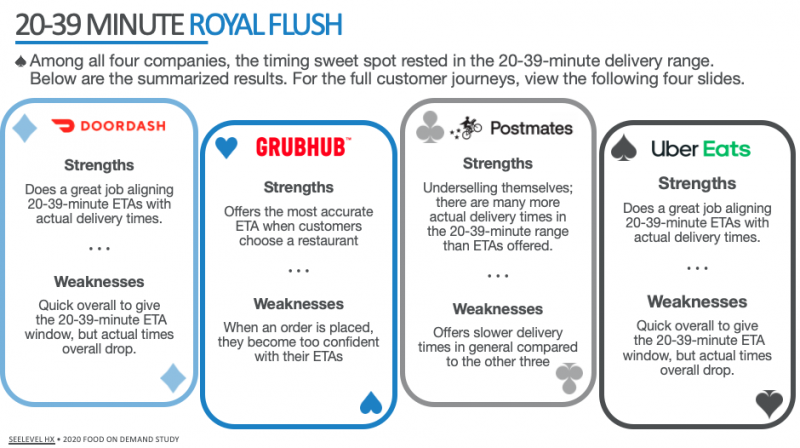 Since the survey was completed pre-COVID, a separate, smaller survey was taken to measure any shifts in customers' expectations following the COVID shutdowns. Around 38 percent of the consumers responding in the second study found drive-thrus the safest way to visit a restaurant, with 21 percent favoring curbside pickup; 15 percent finding delivery directly by the restaurant safest; 10 percent choosing third-party; and 9 percent choosing in-store pickup/carryout.
Another telling statistic was that only 27 percent of respondent were not experiencing any fear or anxiety of visiting a store or restaurant right now; 44 percent were somewhat concerned and 28 percent were substantially concerned.
Kuchimanchi said that the pandemic has only reinforced how important delivery services have become, especially as consumers now are ordering multiple meals in a week.
While delivery drivers initially were given a bad rap for being "slovenly," Upton said, the data from the current survey—the third version of the survey for FOD—showed that all four delivery services scored in the 90th percentile for being "friendly, polite, neat and clean." And all four scored 100 percent for arriving in a clean car, as reported by those who saw the car.
And even before COVID made food safety the flat-out No. 1 issue, the previous year's insights that drivers were stealing fries from orders they were delivering was fortunately a non-issue this time around.
The usability of the third-party's app was the first thing looked at. When the surveyors called the restaurant to ask, "What delivery food apps am I able to use to get your food delivered?",  DoorDash had slightly more mentions at 153, with Grubhub and Uber Eats tied at 148 and Postmates at 122. Around 55 other delivery apps were mentioned as well. The vast majority of users found the apps easy to use, however, 23 percent of the surveyors said they would not use Postmates app again. Uber Eats received a 93 percent ranking. "Online is still young, so by no means have any of the apps been perfected," Kuchimanchi said. "There's lots for us to do."
The sweet spot for delivery by all four services was in the 20- to 39-minute range.
Doordash's strengths was that it did "a great job" aligning 20- to 39-minute ETAs with actual delivery times. Grubhub had the most accurate ETAs and Postmates' strength was seen as underselling themselves on the ETAs, however, their delivery times were generally slower than the other three services.
Another measurement of the customer experience was how often the service notified a guest when the food was going to be late. Grubhub did not notify guests 25 percent of the time the meal was late; while the other three's scores were in the 8 to 11.7 percent range.
The higher cost of delivered food is something consumers seem more willing to swallow than restaurants are of the fees, and the price is rising. The average cost, including food, delivery, fees and tip was: $29.21 for Doordash; $31.20 for Grubhub; $30.50 or Postmates; and $27.35 for UberEats. In comparison, the average price for an Uber Eats delivery in 2017 was $20.74.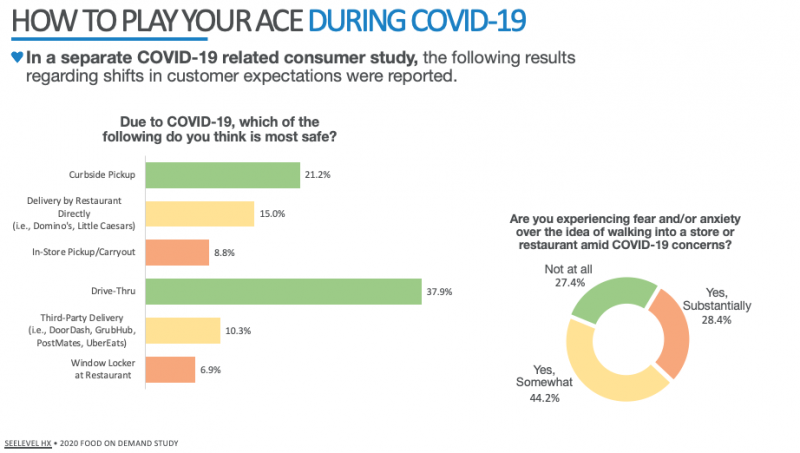 A sticking point in delivery is that unlike a dine-in experience, where if your server forgets to bring you the ketchup he or she can quickly run back to the kitchen to retrieve it, with delivery it's not feasible for the driver to return to the restaurant for forgotten items. Kuchimanchi said there are lots of potential breaking points in the chain, which is why they work with the restaurants to ensure accuracy at all turns. A figure from a 2019 QSR drive-thru study estimated the average potential annual loss per restaurant from drive-thru order inaccuracies is $52,000.
For the most part the four third-party services scored well on delivering food at the appropriate temperature in a manner where the food was "presented neatly/nicely." Grubhub delivered at proper temperature 88 percent of the time in the survey, but scored higher in the presentation of the food at 95 percent. Uber Eats scored 95 percent on temperature and 100 percent on presentation. So what you pack your food in does matter.
Drinks are a tricky item to deliver intact, and Uber Eats lagged behind the other three on getting fountain drinks into the hands of customers with "little ice melting and the cup in good condition." "Drinks are a problem since they don't travel well," Kuchimanchi admitted. "We have work to be done on this as the data shows."
Goodwin added that drink manufacturers are looking at how to make packaging that will allow fountain drinks, which are a higher margin in a low-margin business, to be easier to deliver. The key to training consumers to order drinks, she added, is "to replicate the in-restaurant experience on the app, such as recommending a drink order or complimentary items."
Where the experience seemed to dip for all four delivery providers was when they got into dealing with multiple deliveries, such as the driver indicating that the customer could order from more than one app at the same time.
The data is especially valuable as COVID has ramped up the need for delivery. The study found that 49 percent of respondents downloaded one to three new apps after the pandemic caused varying degrees of stay-at-home orders. Around 74 percent use third-party delivery the same or more than previously, and 50 percent are using mobile apps more often than before on food and groceries.
If you missed the Food On Demand Conference this week, you can watch replays of the all-virtual presentations including breakout sessions.