After years of speculation about how the U.S. restaurant delivery scene will change with anticipated consolidation among the four largest third-party delivery services, the landscape has dramatically shifted with the news that Uber is in the process of buying Postmates, just weeks after Europe's Just Eat Takeaway.com announced plans to purchase Grubhub.
Just after the Independence Day weekend, on July 6th, Uber announced an agreement to acquire Postmates for approximately $2.65 billion in an all-stock transaction that will narrow the list of large-scale national delivery providers down to the "big three," even though the Postmates name will live on in the market, according to plans released by the soon-to-be-merged entity.
A widely cited market share study from Edison Trends reports that a combined Uber Eats and Postmates would capture 37 percent of the U.S. delivery market. DoorDash would remain the dominant player with approximately 45 percent, while Grubhub would fall to third place with 17 percent of the national market.
In a presentation laying out its rationale, Uber said the deal would "enhance Uber Eats' financial profile" and accelerate Uber corporate's path to profitability. The ride-share giant estimates a minimum of $200 million in "run-rate synergies" that it expects to achieve one year after closing the transaction, anticipated during the first fiscal quarter of 2021.
With 10 million active customers, 115,000 partnered restaurants, Postmates had $643 million in gross bookings during the first fiscal quarter of 2020, which equated to $107 million in system-wide revenue during the period.
The presentation emphasized Postmates' strong presence in Los Angeles, Las Vegas, Orange County, San Diego and Phoenix. Miami is another especially strong market for Postmates, contrasting its well-known sweet spot in the Southwest U.S. Uber also noted that Postmates brings technology assets into the fold, including what it called "industry-leading courier efficiency" that's up to three tips in an hour in strategic markets, as well as its delivery-as-a-service offering that gives merchants the ability to add delivery to their websites and apps to fulfill on-demand orders in and outside of prepared meals.
Uber predicts increased demand and lower costs for restaurant operators on the platforms, which has been the so-far unattainable holy grail for an industry that's largely unprofitable, especially among the largest national delivery providers.
"Uber and Postmates have long shared a belief that platforms like ours can power much more than just food delivery—they can be a hugely important part of local commerce and communities, all the more important during crises like COVID-19. As more people and more restaurants have come to use our services, Q2 bookings on Uber Eats are up more than 100 percent year on year," said Uber CEO Dara Khosrowshahi.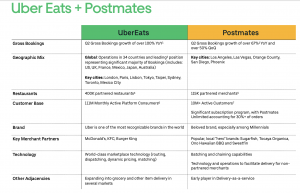 "Over the past eight years we have been focused on a single mission: enable anyone to have anything delivered to them on-demand. Joining forces with Uber will continue that mission as we continue to build Postmates while creating an even stronger platform that brings this mission to life for our customers," said Postmates Co-founder and CEO Bastian Lehmann. "Uber and Postmates have been strong allies working together to advocate and create the best practices across our industry, especially for our couriers. Together we can ensure that as our industry continues to grow, it will do so for the benefit of everyone in the communities we serve."
In an interview on CNBC's "Squawk on the Street" after the deal's announcement, Khosrowshahi said, "We're very confident we're going to get to profitability next year and we have enough of a diversified portfolio to make that statement with quite a bit of confidence."
The boards of directors of both companies have approved the transaction, and stockholders representing a majority of Postmates' outstanding shares have committed to support the transaction. The transaction is subject to the approval of Postmates stockholders, regulatory approval and other customary closing conditions and is expected to close in Q1 2021.
Uber currently estimates that it will issue approximately 84 million shares of common stock for 100 percent of the fully diluted equity of Postmates.
For delivery consumers, Uber's heightened profile along with new ownership for Grubhub, means that the landscape isn't shrinking like many industry watchers have previously predicted. While it's possible intense, costly competition for active diners could curtail at some point, it's more likely that free- and discounted-delivery promotions will continue for the foreseeable future.
Restaurant operators will see Uber's profile rise in most markets, but it's unlikely commissions will decrease, especially for smaller-scale restaurants that lack the bargaining power of large restaurant chains.
As we and others try to game out the future of the U.S. delivery industry, it seems like the more things change, the more they are poised to stay relatively similar, but with some new execs and board members added to the chess board. Significant commission likely stays out of reach until these brands are able to turn sustainable profits. That's 2020 for ya.