A new survey of restaurant operators on the Uber Eats platform shows many feel that, were it not for third-party delivery volume, the vast majority would have had to lay off staff members or cut staff hours to get through the pandemic. Putting a finer point on it, three out of four operators on the Uber Eats network surveyed said they would have had to close their doors if not for the 'Eats volume.
While any survey put out by a company surveying its own customers should be viewed with an eye of skepticism, this report created in partnership with foodservice research firm Technomic includes some interesting nuggets. It's no surprise that many of those surveyed feel their partnership with third-party delivery platforms has been critical to weathering the pandemic and that they provide value beyond just delivering meals. For restaurants who joined Uber Eats since March, more than 88 percent said they will stay on the platform beyond the crisis.
According to the report, 92 percent of operators said they would continue using third-party delivery post crisis—and that figure is 88 percent for new restaurants on the platform. Beyond driving volume, 84 percent of surveyed operators indicated that third-party delivery apps have allowed them to reach customers they otherwise wouldn't have access to.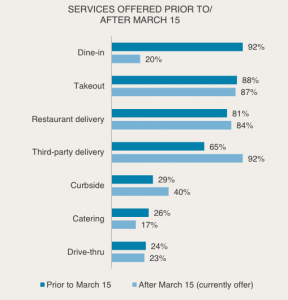 Tooting their own horn, which is understandably a feature of the survey and its summary, Uber said that more than two-thirds of respondents whose restaurants are on multiple delivery platforms said Uber Eats was their preferred partner among the herd.
Diving into the hot-button issue of third-party delivery efforts to ease the pandemic's impact among operators, more than 80 percent of respondents said that Uber waiving delivery fees and accelerated merchant payment cycles both had a positive impact on their business.
The survey also included some interesting stats on how restaurants have changed their service offerings in response to the crisis. While 92 percent of respondents offered dine-in prior to March 15th, only 20 percent were serving inside the restaurant after March 15th. Native and third-party delivery both increased, which is no surprise, along with curbside service. Curiously, takeout and drive-thru service both decreased by a single percentage point, with catering offerings down from 26 percent pre-COVID to just 17 percent after March 15th.
"The findings from this survey show that third-party delivery services provide an important channel for restaurant operators to reach new and existing customers, increase revenue, and grow and maintain their business, particularly during the COVID-19 pandemic," the report's introduction said. "The study findings also illustrate that there are unique challenges to be addressed in the partnership between third-party delivery platforms and the restaurant industry."
Included in the report was a grim statistic from the National Restaurant Association that more than 8 million restaurant workers had been laid off or furloughed since the beginning of the outbreak in early March. On average, those operators cut 83 percent of their restaurant's total staff. Forty-one percent of those operators laid off or furloughed their entire staff.
Uber's survey was conducted in June of 2020, with 418 restaurant operators going through a 20-minute online survey about their experience with third-party delivery during the crisis. Respondents included a mix of limited- and full-service operators across a range of menu categories including both chain and independent operators. All of those surveyed are currently partnered with Uber Eats, and many are also using other third-party delivery services. The sample includes representation from 17 markets, including 305 operators in the United States and 113 from Canada.
There's a lot more to digest in the report, including additional actions third-party services could take to help restaurants, as well as a scorecard on how operators perceive the safety efforts implemented by Uber Eats and its drivers.
Click HERE to read the full report.