Grubhub is helping students save time by skipping the checkout line via a new partnership with Amazon.
Amazon's Just Walk Out Technology is now available at Loyola University Maryland, the first Grubhub-partnered campus to deploy the automation.
The technology allows businesses to offer consumers a fast, frictionless way to shop without the hassle of checking out or needing to scan items.
How it works: Students scan a QR code in the Grubhub app to enter the store, and the technology detects what shoppers take from or return to the shelves. When students have completed shopping, they are able to leave the store and the payment will automatically be deducted from their meal plan, declining account balance or other stored payment methods linked to their Grubhub account when they leave the store.
"Our installation with Amazon's Just Walk Out technology is another example of how we are strengthening our relationship with our campus partners with cost-saving technology and driving student adoption," said Eric Ferguson, chief operations officer at Grubhub. "The services and products we provide for our campus partners are designed to enhance and improve the dining experience, and we're excited to offer this innovative and frictionless technology to our campus partners."
The "walk-out" technology utilizes artificial intelligence (AI) like computer vision and learning techniques, including generative AI, to accurately determine who took what in a retail environment. Amazon built "synthetic datasets to mimic millions of realistic shopping scenarios"—including variations in store format, lighting conditions, and even crowds of shoppers to ensure accuracy—according to the e-commerce giant.
"We strive to bring innovation to our campus, and this is a perfect example of our drive to lead in technological applications for our students, faculty, and staff," said John Coppola, vice president for finance and administration and treasurer for Loyola University Maryland.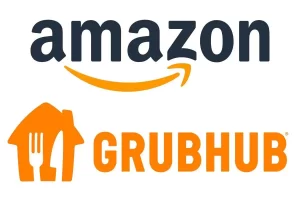 Grubhub partners with 300 higher education institutions, enabling students to integrate meal plans directly into their Grubhub accounts and access restaurants both on-and-off campus for delivery and pickup.
In addition, Amazon Prime members in the U.S., including those part of the company's discounted membership for college students "Prime Student" can receive one year of Grubhub+ for free. Grubhub+ offers $0 delivery fees and discounts at thousands of restaurants.
For more information on Grubhub campus, visit https://www.grubhub.com/about/campus