Restaurants utilizing self-delivery through the Grubhub Marketplace will soon have the option to request on-demand delivery service on a per-order basis should they need it. 
This feature is currently in pilot in markets across the country, including Boston, Philadelphia, Los Angeles, D.C., Seattle, Chicago and Denver.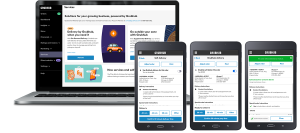 Previously, restaurants couldn't toggle between self-delivery and Grubhub delivery, but with the new automated feature, they can switch between both options on orders. Restaurants in the pilot program that use Grubhub delivery will be charged a flat delivery fee of $5 per order.
"Whether a restaurant could use extra support to keep up with demand during peak hours or cover for a driver who called in sick, we want to give restaurants even more help to run their business and deliver a great experience to customers," said Liz Bosone, vice president of restaurant success at Grubhub. "We've heard from our restaurant partners that they welcome the convenience of this feature and like having alternate fulfillment options that don't require hiring additional staff. We're proud to add this feature to our suite of tools and services."
On-Demand Delivery joins the suite of services that Grubhub offers its restaurant partners, including Supplemental Delivery, which allows self-delivery restaurants to expand their delivery boundary and reach more diners with the help of Grubhub drivers. 
More information on Grubhub's delivery services is available here.
Order Frequency Insights
In other Grubhub news, the company has added Order Frequency Insights to the Grubhub for Restaurants portal. This will provide information to help merchants grow their business and learn more about how often their customers are ordering from them. 
The new functionality will specifically help restaurants filter their sales and order metrics by new or returning diners, as well as Grubhub+ and non-Grubhub+ customers. 
To get started, users select the "Insights" tab in GFR and can then view customer order frequency history from the last 90 days within the Customer Insights page. They can segment customers out by new or returning diners and Grubhub+ or non-Grubhub+ customers. 
Further highlighting the value of their Grubhub+ customers, restaurant owners can view their average number of orders per Grubhub+ customer and their most loyal customers, defined as those who rank in the top 10 percent of their order volume. And to drive action, users can click the links at the bottom of the page to view more details on how to run promotions and loyalty programs.
"Our restaurant partners leverage Grubhub as an acquisition tool to attract new customers, build relationships with these customers, and drive retention. They've been asking for more tools that help them do all three," said Bosone. "With our latest addition of Order Frequency insights within the Grubhub for Restaurants portal, we're providing our partners with tools and data that will empower them to not only understand who their most loyal customers are, but how to best engage with them to drive more frequent ordering."