With customer data as the holy grail in restaurants, Bikky is urging operators to use this information at a higher level than just retargeting customers. With access to more data sources than ever, the New York-based startup says restaurants should use detailed guest data to make critical, data-driven business decisions.
Food On Demand spoke with Bikky co-founder and CEO Abhinav Kapur shortly before announcing its recent, $5.25-million seed round that included two hometown investors, a Canadian fund and, according to Kapur, ex-DoorDash, Grubhub and Uber Eats employees.
The genesis of the seed round—led by Equal Ventures, Gutter Capital and Version One Ventures—was an existing investor stepping up and wanting to put more capital into Bikky at the end of April, just before market conditions changed leading to a slowdown in investments in the greater meal delivery category.
Some of the restaurant operators taking part in the round include Bikky's first client include, 16 Handles, as well as 5 Napkin Burger, Aurify Brands, Boloco, Evergreens, Groucho's Deli, INDAY and Milk Bar.
"Forty percent of the round is basically coming from industry operators or folks who know and love this industry and understand the power of what we're building—that's the biggest thing," Kapur said. "It's one thing to sign a customer, give them a product and serve them in that way. It's another thing when they're literally saying this is the first startup investment I've ever made and…I'm betting on you because I know what the product does and what it unlocks for our business."
More than marketing
Bikky is one of several players in the customer data side of the restaurant industry, broadly including brands like Bentobox, Ovation, Thanx, Paytronix and Wisely. The company works with more than 60 multi-unit brands, and combines customer data from point-of-sale systems, payments, online ordering, loyalty and reservation systems to give restaurants what it calls "the most comprehensive understanding of revenue moving through their businesses."
As delivery expanded before and throughout the pandemic, and many in-store diners switched to delivery or takeout, the entire category has grown as restaurants seek better intel on their customers wherever they're coming from.
When Kapur talks about what makes Bikky unique from its cohorts, he stresses the importance of omnichannel sources of guest data and what restaurants can do with data that identifies and follows customers across various ordering channels.
"What we've been able to do since raising the funding is expand our product capabilities where we're now pulling in data, all of these breadcrumbs of data across the entire tech stack, and instead of giving them visibility into the 10-20 percent of people who are ordering from them natively, we're able to get to 50, 60, or 70 percent coverage of their customer data," he said.
Stressing that all of the company's data sources are above board, with a laugh, Kapur said the increase in input data sources can outline customers that are migrating between ordering channels and extend as far as what menu items result in unhappy customers—so restaurants can proactively take action based on micro-targeted guest satisfaction.
That's just one example among several the CEO listed, while referencing his mother in law who ran the Amma restaurant in midtown Manhattan. Rather than lamenting dine-in guests who switch to delivery, for example, he suggested restaurants can also use that information to send relevant offers that recognize this change in behavior, rather than sending all customers a similar promotion.
"You aren't relying on mental cognition to deliver a great experience to a guest," he said of such data-driven mind shifts. "By virtue of the operator having that data and understanding that change in behavior, they can actually serve you better based on whatever your preferences are as a customer."
Since Bikky's founding in the pre-pandemic days of 2017, the company's team of 10-and-counting employees broadened its focus from marketing-based applications to higher-level business decisions. That has come from adding in new integrations like Olo to its offering, and realizing that data can be used to do more than just driving personalized marketing campaigns.
Getting more casual
The company's wider focus has coincided with a larger pool of customers, which were generally QSR and fast-casual brands in its early days, but now includes more casual dining restaurants, as well.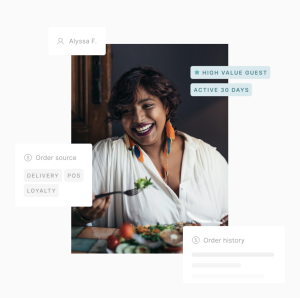 "These are two segments of the industry that typically don't have much overlap, and [don't] even have much in common other than the fact that they are restaurants," Kapur said of Bikky's evolving client base. "The questions they're starting to ask around frequency, retention, lifetime value, what channels are the most effective for me to market on, what channels are best for me to acquire guests—the pandemic has really forced every restaurant to think more holistically about their business, and data has become the center for any kind of restaurant."
Even as the growth rate of delivery may be cooling as inflation remains high and the category matures, Kapur said conversations with larger restaurant brands have changed, with most recognizing that third-party providers are a fixture of the landscape and one of their best opportunities to acquire new customers.
With more than $1 trillion spent at restaurants and bars over the last year, according to the U.S. Census Bureau, the company feels that this illuminates the disconnect between restaurants and other industries that have granular information about their customers, their preferences and ordering habits.
After more than two years of the pandemic, Kapur said most larger-brand restaurant execs have been convinced that delivery customers are incremental, and therefore worth paying the commissions that also include restrictions on what data third-party providers share with restaurants.