Two big names in delivery have teamed up to bring independent restaurants and ghost kitchens a solution that could dramatically improve the economics of their delivery programs. But as restaurant executive Meredith Sandland and ClusterTruck founder Chris Baggott explain, this holy grail of profitable delivery requires restaurants to go all in with their own driver fleets and tailor-made software.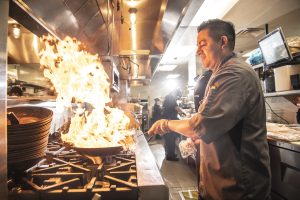 This new delivery- and kitchen-management software is called Empower Delivery—and its adoption is a big ask for the sophisticated, delivery-forward restaurants and standalone ghost kitchens the company is targeting. The Empower system claims to solve for the complexity, cost and poor customer experiences that some delivery-optimized and ghost-kitchen restaurants face.
After announcing the details of the Empower Delivery software and driver structure last week, the two spoke with Food On Demand for a deeper look at the spin-off's business model.
Chris Baggott founded ClusterTruck in 2015 after years as a tech entrepreneur, and he said splitting off the software side of the ghost kitchen business is a natural next step. In his view, ClusterTruck's eight-year history has proven that integrated software coordinating the fire times of individual dishes can be married with a fleet of dedicated contract drivers to avoid the operational challenges of third-party delivery with much lower fulfillment costs.
For Sandland, previously chief development officer at Taco Bell and Kitchen United, and co-author of Delivering the Digital Restaurant, her new role as CEO of Empower Delivery is an opportunity to realize her dreams of improving the economics of delivery for restaurants while simultaneously creating a better experience for end users.
The pair say Empower is aimed at a very specific corner of today's North American restaurant market: "sophisticated" independent operators who have resisted going all in on delivery, but realize it's a critical growth opportunity in the years ahead.
For local, multi-unit operators that they imagine benefitting, Baggott and Sandland assert there is no variant of the existing outsourced delivery model that will result in sustainable economics for operators, happier drivers and better food reaching customers. The key to different outcomes, they stress, is an entirely different approach that doesn't include any third-party delivery providers, and relies instead on an elaborate software suite that means operators might need as few as three pieces of software to run a high-volume, delivery-forward business.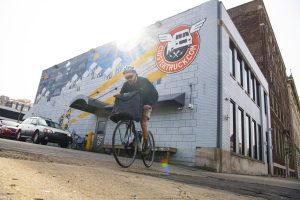 Sandland said ClusterTruck's flagship location in Indianapolis delivers eye-popping numbers including an $8 million average unit volume, approximately 1,000 off-premises orders a day, a leaner tech stack and labor costs that are less than 20 percent of sales, a 7 percent average cost of delivery, along with free delivery and reasonable menu prices for customers.
"If you call your drivers your front of house, you're at 26 percent of sales for your labor costs," Sandland said. "I was like, how is this possible? It's amazing."
Going all-in on delivery using ClusterTruck's operating model as a template also requires specific optimization of cooks within a delivery-only facility in a way that sounds similar to lean manufacturing where busywork and wasted steps are meticulously identified and eliminated. She added that such a setup results in happier humans who know they're spending their time in productive ways and not being yelled at like in so many restaurant kitchens.
"Customers want delivery, but it's not really working," Sandland added. "Restaurants aren't happy with it, drivers aren't happy with it, third-party platforms aren't making money, the restaurants aren't making money, like, it's not quite right."
Spending money to save
Abandoning the frequently cited idea that incremental sales are the key to profitable delivery, Empower Delivery is designed for operators who are willing to build or lease purpose-built ghost kitchen spaces, allowing existing brick-and-mortar restaurants to retain their focus on dine-in customers, while separating off-premises occasions into a dedicated space.
Sandland said there are more independent restaurant groups in this category than meets the eye, and many have reacted coldly to delivery because "between menu mark-ups and service fees, it's very expensive and they think, 'Why would I give up my customer to someone else to give them a bad experience at a high price? That doesn't seem good for my brand.'"
Operators primarily doing dine-in, fast-casual or drive-thru service probably wouldn't use this software today, she added. Upscale casual dining operations with excellent food and loyal customers would be perfect fits, noting that California's Hillstone Restaurant Group—whose brands include Houston's, Hillstone and Houston's, could be a "perfect poster child."
Addressing the reluctance of restaurants to hire in-house drivers amid the current labor crunch, Baggott said giving contracted drivers "dignity" in their work makes it much easier to hire and retain drivers. A fully optimized delivery operation intends to keep them busy with 4-6 jobs per hour within a six- or seven-mile delivery radius, with less time wasted by waiting around for orders to finish.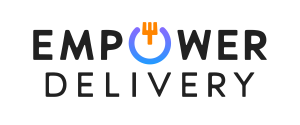 Baggott said an operation doing 100 delivery orders a day would require approximately 8 drivers for that day. Throughout its eight-year history, ClusterTruck has retained 21 of its original fleet of 30 drivers.
"Maybe on a good hour I can get two jobs," Baggott said of drivers on DoorDash, Uber Eats and the like. "Because I can get more jobs per hour [using Empower's model], you can pay significantly less per job, so the restaurant now is paying less per driver, but the driver is actually making a lot more money."
Adding that a lack of driver dignity comes from restaurants finding drivers to be a hassle and customers ultimately receiving sub-par food and orders frequently being late, he said it's not the drivers' fault, it's an inefficient system ripe for reinvention.
Abandoning incrementality
Asked about the challenges of finding and convincing multi-brand local operators to make a big investment in delivery infrastructure to ultimately grow volumes and reduce delivery costs, Baggott and Sandland said their approach requires everyone to imagine there's a way to make money on delivery if and only if 100 percent of the unit's volume were off-premises sales.
The alternative for restaurants, as Sandland and Baggot point out, is to either keep delivery customers at arm's reach, which many independent operators have done even throughout the pandemic, or keep paying third-party commissions that many in the industry feel are unsustainable over the long term.
"Sophisticated independents have never embraced delivery, even during COVID, because you can't make money and it's a bad customer experience," Baggott said. "But now these people are coming around, and there's a lot of them that are going to do this—they're going to deliver the way ClusterTruck delivers, in a purpose-built facility" and with software designed expressly for high-volume delivery.
He added that "delivery is never going to be great until these restaurants actually focus on it like a real business, not an incremental business."
Sandland invited interested operators to come to Indianapolis to see the largest ClusterTruck ghost kitchen facility, which she said will wow any seasoned restaurant person. Aside from nobody yelling, she said the calm vibes within the facility are especially shocking given daily order volumes that often exceed 1,000.
"When you see what they're capable of and you understand that the software solves the problem in a different way than anyone else in the industry, you think 'Oh yeah, this should be available to everyone,'" she said. "Truly, this is not what I anticipated I would end up doing, and it is only because when I saw it, I was so excited that I am here."