In the fifth installment of Wells Fargo's ongoing delivery-customer survey, analysts Jon Tower and William Miller found that promotions and discounts have reached their highest level to date with big-time TV ad campaigns from most major delivery providers. Zeroing in on customers who are ordering delivery most often, the results showed that heavy users are growing less sensitive to the increasingly high cost of delivered meals.
Surveying approximately 650 delivery customers in the U.S., the Wells Fargo study showed a full 70 percent of respondents ordered delivery at least once over the month. "We believe this has been fueled in part by the growth in availability of delivery options (likely at the expense of traditional incumbents such as pizza concepts) as well as high promotional activity," Tower and Miller wrote. "While it is too early to discern whether delivery sales would wane should promotional activity slow, we do believe higher delivery costs may temper growth" of the category.
Contrary to findings from previous installments of the rolling survey, Grubhub saw the highest jump in usage among major third-party delivery services, with Uber Eats as the sole provider to see a slight decrease in usage. The study's authors noted that promotions and discount coupons hit their highest level to date, which they took to imply that customer loyalty remains low, while the cost for delivery providers to acquire and retain new customers remains high.
With still a significant number of later-adopters yet to try third-party delivery for the first time, Wells Fargo found that more respondents than previous months only ordered delivery once during the past month. Among those who ordered more than five times a month, they were most moved by specific restaurants available on the app, as well as the availability of promotions and coupons.
Asking why respondents ordered food delivery over the last month, 68 percent said they were replacing cooking at home, while 18 percent said they were replacing an in-person restaurant visit (not significantly higher or lower than previous months) and 13 percent replacing take-out (not delivery) from a restaurant.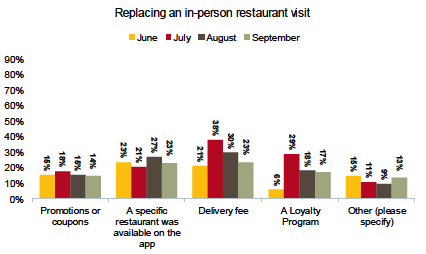 As other delivery services like Florida's Delivery Dudes look into delivery of CBD-infused products—with THC further away on the horizon—31 percent of respondents said they didn't use their delivery apps for others services, but that they would be interested in different products or services, like grocery delivery or rides.
A final nugget came in digging deeper into promotions by delivery provider, with 50 percent of Postmates users saying promotions or coupons were their primary motivator, "indicating the brand may be in heavy customer acquisition mode," the analysts concluded.