Uber Eats is looking to improve the airport dining experience and customer pickup experience for customers at home or on the ground wherever they're staying.
The new airport features are designed to give travelers the option to order from restaurants and pay in Uber Eats app to skip the line for pickup at select airports in the coming months. It has also added searchable pickup maps for all Uber Eats users looking for self-pickup options at home or on the ground wherever they're staying—tailored to customers looking to find convenient pickup options while avoiding the traditional costs associated with restaurant delivery.
This new airport pickup feature is available at select restaurants at three airports in the U.S. It's currently being piloted at Toronto Pearson Airport, and will continue rolling out to additional North American airports in the coming months.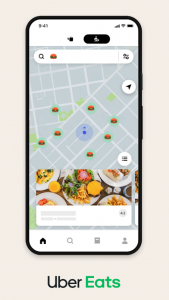 Outside of airports, the new Uber Eats searchable pickup maps make it easy for users to find nearby food, alcohol, convenience and grocery stores that offer customer pickup, so users can order ahead, avoid paying deliveries and skip the line once they arrive at their destination.
Once international travel becomes a thing again, the searchable maps include the ability to search for products or specific cuisine types using emojis. Uber says that this is intended to come in handy for travel to countries with different languages.
In other travel-related Uber updates, Uber Reserve is now available at more than 20 airports across the country, giving passengers additional wait time for guaranteed on-time pickups. This update includes flight tracking, so your driver will be ready and waiting when your flight lands, whether it's early, late or on time. Whatever happens, your driver will wait up to 60 minutes at no additional charge, and customers can reserve rides up to 30 days in advance to know your ride is taken care of well before you arrive at your destination.
This feature is available at more than 15 airports across the world including Chicago (MDW), Las Vegas (LAS), Los Angeles (LAX), New Orleans (MSY), New York (JFK and LGA), Philadelphia (PHL), Portland (PDX), Salt Lake City (SLC), San Diego (SAN), San Francisco (SFO), San Jose (SJC), and Seattle (SEA) in the US as well as Kolkata (CCU), London, (LHR), Montreal (YUL), Riyadh (RUH) and Toronto (YYZ).
These updates come as TSA reports that more than twice as many people are flying today compared to this period last year. With the pandemic remaining a huge factor in all facets of travel, Uber added that "the airport experience can feel more stressful and uncertain than before."