It's not every day a 19-year-old starts a franchise restaurant. It's similarly uncommon for a new restaurant brand's first franchisees to find themselves building their first stores just as the pandemic began to shut down the world around them. For Florida-based Bahia Bowls, unexpected challenges have been the norm of its four years of existence, but low food costs have enabled it to profit on newly high volumes through third-party delivery services. 
On his quest to hit 25 units by the end of 2021, Bahia Bowls Co-founder and Owner Ben Casey said losing the peak tourist traffic as COVID spread through Florida and the rest of the U.S. was a huge hurdle. Even so, its sales have increased as much as 50 percent year over year as grab-and-go and third-party delivery have brought this fresh brand to a new cohort of customers that don't appear to be replacing dine-in business. 
Casey said Bahia's lean labor model means that one location can still be operational with as few as two employees at a time. That ability, combined with its comparatively low food costs, has meant that the brand can consistently profit from orders coming in through third-party delivery services.
"As long as your rent is kept reasonable, everything else is a variable cost," he added. "It's certainly not the way to start off a business relationship with somebody in circumstances like this … I was scared that they were going to be opening probably in the worst conditions we could imagine, but it turned out to be, honestly, quite the opposite in my opinion."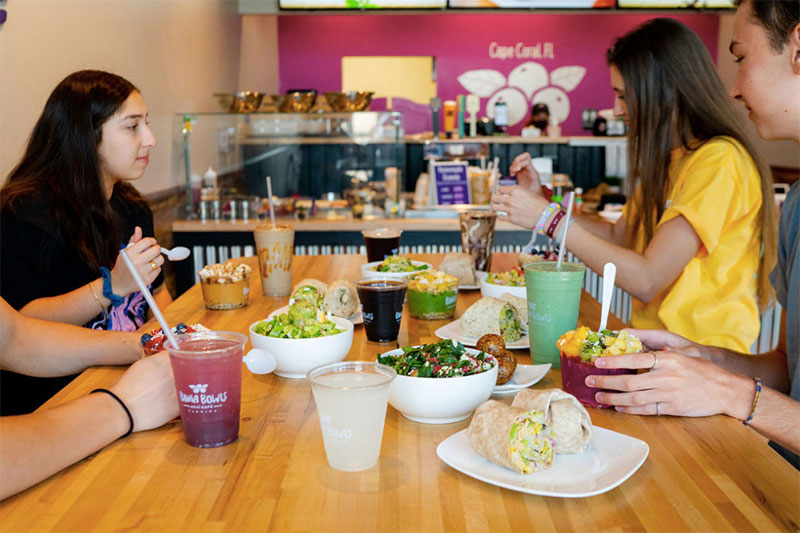 While the CEO acknowledges that its company-owned and franchisee locations would all be doing better in a non-COVID world, building a robust delivery program in partnership with all of the large-scale, national delivery services has enabled the corporation to develop and share best practices with all of its new franchisees, including those whose first stores were still under construction. 
"You need to exhaust all these outlets, you need to be staying connected on social media, you need to take this seriously," Casey said of its approach to delivery and takeout business during a pandemic. "Stay closely in touch with what your local municipality is saying, abide by all the rules, stay in touch with your customers and you'll do fine."
Four years after hatching the concept for Bahia Bowls, which sells healthy foods like acai bowls, oatmeal bowls, smoothies, loaded toasts and protein bites, Casey said he and his business partner have focused on positioning its menu to avoid the pitfall of becoming another fad, like frozen yogurt. In his eyes, avoiding that fate means building locations that feel like a healthy cafe that consumers can view as a replacement for lunch at Chipotle or Panera, rather than similarly health-focused concepts, like Vitality Bowls. 
"We're competing against … anywhere people might choose to eat for lunch, for a quick dinner or a nice breakfast," Casey said. "I realized that early on, we have something we can really fill in the market, so we launched the store and, sure enough, people started to agree."
Harkening back to those early days in 2017, the CEO said Florida's seasonal drops when snowbirds fly back north were originally a big challenge for the franchise system. Those concerns haven't matched the reality of 2020, as its latest numbers after the peak of the tourist season are rivaling in-season volumes from previous years. 
"I think it's because people are starting to see it the way we always have intended for it to be seen, as a meal replacement and as a mainstream concept … not just another thing that pops up in a mall that's like, 'Oh, that's a nice trendy place that will be closing in two years,'" Casey added. 
The company is also testing salads and wraps at its Cape Coral, Florida, location, which it plans to roll out across the system if further tests are successful. 
"In July we expanded the menu at our flagship, and in August, we saw 50 percent year-over-year sales [growth]," Casey said. "Mostly what we can attribute this to is grab and go—we really pivoted to that, seeing a lot more online orders, the delivery tablets are going crazy all day and walk-in business has really picked up."
With partnerships with Uber Eats, Grubhub, DoorDash, Bite Squad and Postmates, in certain markets, Casey said "we like the third parties," noting that some individual locations see as much as 30 percent of overall volumes coming in from delivery apps. 
Operationally, the company has focused on coordinating delivery times with the back of the house, focusing on finishing delivery orders "as the driver is walking through the door." Because its trademark acai bowls have inherent issues traveling, getting more watery with longer drive times, it has also focused on packaging to maintain food quality on longer deliveries. 
As its headquarters team has grown to five, with a number of prospective franchisees waiting in the wings, Casey said his admiration is increasing for the franchise business model, which he said has brought talented owners into the system who have contributed to both current issues, as well as future planning. 
"I love the input from other people, I like working with these experienced operators, I like creating something that people can connect with," he added. "Honestly, before we started Bahia Bowls, I didn't realize that would be such a cool thing."