A new market report from Research and Markets says the North American online food delivery market size that reached $29.8 billion in 2022 could more than double to nearly $65 billion by 2028. Such a lofty prediction would require the industry to grow by nearly 13.7 percent each year.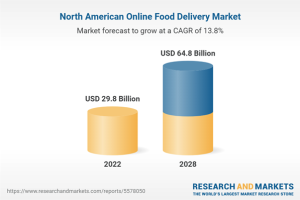 Dublin-based Research and Markets has followed the global food delivery scene, and has zeroed in on North America for several years. Its latest report comes on the heels of several years of significant delivery expansion, followed by a crushing bout of inflation that uniquely impacted food prices, restaurants and the total cost of delivery. 
Beyond rising preferences for "quick access to food at affordable prices," the report points to the ongoing emergence of delivery-only "cloud kitchens" and virtual restaurants as a significant component of the coming wave of delivery growth. 
Getting into specifics, the report suggests that the increasing frequency of discounts, rewards, cashback and coupon codes are also supporting the growth of the overall market—along with delivery provider subscriptions. 
On the demand side, the growth of the fast-food category is tied into the desire for convenient food options, leading companies to offer regular discounts that are still pushing online ordering channels. 
Without another pandemic or unexpected world-changing event, it's hard to imagine so many years of double-digit gains predicted by Research and Markets. 
These predictions tie into our sister publication's annual Franchise Times Top 400 ranking, which ranks the 400 largest franchised brands by total annual sales, showing the QSR burger category increasing sales more than 5 percent to $185 billion during 2022. The better burger category was also up 7.8 percent to $3.4 billion during the same period. 
Other restaurant categories that expanded throughout 2022 were sandwich chains and Mexican brands, both with increases of nearly 10 percent. 
More information from the Research and Markets report can be found HERE.