Two Chick-fil-A customers are suing the chain over its "deceptive and untruthful promises" of flat, low-cost meal delivery. The complaint alleges that, in addition to the delivery fees, usually $2.99 or $3.99, the chain "secretly marks up food prices for delivery orders by a hefty 25-30 percent." The class action complaint was filed in the Southern District of New York on September 28th.
Marking up delivery orders is a common tactic. In February, Chipotle announced on an earnings call that it had raised prices on third-party delivery orders by an average of 13 percent. Del Taco, Noodles & Company, El Pollo Loco and more have each acknowledged that they charge higher prices on third-party delivery platforms than they do in store. Where Chick-fil-A went wrong, according to the allegations, is in failing to disclose their delivery prices and in advertising their flat delivery fee.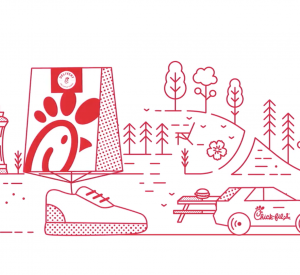 However, Chick-fil-A's delivery markup is higher than its peers, according to an analysis by Gordon Haskett Research Advisors. Of the 25 chains analyzed by the research firm, Chick-fil-A had the highest average markup of 29.8 percent. The fast-food average was 15.3 percent.
The food in question? An eight-count nugget meal and a spicy deluxe sandwich meal. Both plaintiffs allege that their meals would have been 30 percent less expensive had they ordered in store, and that they would have ordered elsewhere if they had known Chick-fil-A was going to upcharge them.
The complaint acknowledges that other restaurants also charge higher prices for delivery, and cites Del Taco and El Pollo Loco as examples of brands that "fairly and prominently represent their true delivery charges."
The complaint seeks a range of monetary damages and injunctive relief "that fairly allows customers to decide whether they will pay Chick-fil-A's delivery mark-ups." It also brings forward class action on behalf of injured parties in New York, New Jersey and nationwide.
This isn't the first such class action lawsuit. A customer in California filed a similar lawsuit in March 2021—the suit was moved to federal court in May and is still in pre-trial. And Chipotle is in the process of settling two suits that allege Chipotle marketed "free" or "$1" delivery while "insidiously" marking up food prices on delivery orders. Chipotle's website now contains the disclaimer "Menu pricing for delivery is higher and fees apply."