A new consumer survey from Deliverect, a delivery order integration provider, shows that interest in delivery and takeout is still increasing.

Data collected during early August showed that 42 percent of U.S. adults are ordering delivery three times a week, which is a 2 percent increase from pre-inflation habits. Furthermore, 20 percent of people are ordering on a weekday evening with family and friends—1.4 times more than people ordering on weekdays.
As the Bureau of Labor Statistics showed prices increasing by 8.2 percent in September, large majorities of respondents said quality ingredients, convenience and speed of delivery were more important than ever. According to the results 90 percent of people said quality ingredients are more important than before the rise of inflation. Nearly 85 percent said distance to a restaurant, and how fast food can get to them, is also more important than ever.
"People are continuing to prioritize and enjoy takeout and delivery food orders as a more cost-effective way to enjoy themselves during this time," Deliverect CEO and co-founder Zhong Xu said. "But with consumers more selective on where they put their money, convenience, ease and a variety of menu offerings is the secret sauce to restaurant success."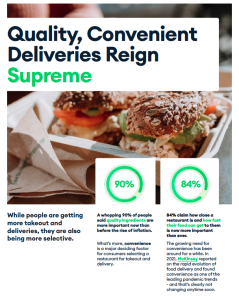 Asked what factors influence why consumers choose one delivery option over another, quickest delivery time was on top at 30 percent. The rest of the top five factors included specific menu item availability (25 percent), convenient location (28 percent), appealing photos of the food (19 percent) and what they saw on social media, reported by 17 percent of consumers in the survey.
Addressing sticky topics like quality of the delivery experience, incorrect orders and other unpleasantries, Deliverect's survey showed that more than a third of customers didn't order from a restaurant again after they had a bad delivery experience. Of that cohort, 23 percent told their family or friends not to buy from the restaurant either.
Delivery charges were rated as the third-highest frustration, reported by 26 percent of respondents. Rounding out the top five were incomplete orders (and missing items) at 25 percent and unexpected/miscommunicated delays noted by 23 percent of users.
Diving into the minutiae of consumers' expected wait times, 23 percent expected their food within 10-20 minutes, 34 percent expected 21-30 minutes and 23 percent of respondents said they'd wait anywhere from 31-40 minutes for their food to arrive.
Deliverect extrapolated its results into a handful of recommendations for restaurants. Its suggestions included further prioritizing the customer experience, freshening up menus with quality ingredients and an eye on what's trending on social media, striving to improve reliability and consistency, and using data collected from previous orders to inform restaurant decision making, including about what items customers wish to find on a restaurant's menu. .
"Restaurants should be able to quickly leverage order and revenue data to make data-backed decisions on menus and promotions across multiple channels," the report suggested. "For instance, data may show that it would be valuable to shrink your menu. A smaller menu that really fits with what your customers want to order means you can reduce costs and focus on quality."