For a category typically associated with theme parks, destination malls and kiosks placed in buzzing locations, beaded ice cream maker Mini Melts and its competitors are already accustomed to meeting their energetic customers where they're at. 
In the shadow of its arch rival with better name recognition, Mini Melts is working to expand its points of distribution with existing automated kiosks, wholesale distribution, partnerships with C-stores and pharmacies, along with locations in suburban fun parks and family friendly resorts. 
With approximately 35,000 points of distributions supplied by 23 distribution centers throughout the country, Philadelphia-based Mini Melts is planning a dramatic expansion to get to a lofty 120 distribution centers in the future, starting with 10 new facilities that will bring the Carolinas and Pacific Northwest into the icy fold. 
Dan Kilcoyne, president and CEO of Mini Melts USA, first got into the category as a Dippin' Dots operator when he was in high school in the late 1990's. After quickly finding success and opening up kiosks in malls across the Philadelphia metro, he eventually broke off to bring the Mini Melts brand to the American market in 2004. 
Additional distribution opens
Thinking about the budding reinvention of gas stations and convenience stores, along with new ways to ship directly to customers and partner with existing destinations and retailers, Kilcoyne is already well versed in delivery channels that many foodservice brands are just beginning to explore. 
"There's a change in the overall go-to-market of the industry and that's a good thing," he said. "We don't believe the only focus should be on physical brick-and-mortar retail, it's the reason we did the automated kiosk program from the beginning. It's hard to have one singular location with one singular product type and assume you're going to generate the revenue to…break even." 
Going further, he pointed to what he calls "over-reach" of the ghost kitchen model that he sees continuing, but evolving from the current offerings in the category. 
While Goldbelly and third-party delivery channels might appear as a great fit for such a multi-channel distribution model, Mini Melts is hemmed in by the challenge of keeping its product at negative 40 degrees Fahrenheit, which is the key to keeping its dense, butterfat-rich product in its ideal state. 
Even with the significant temperature constraints, Kilcoyne believes that growing channels such as Goldbelly or Gopuff are possible growth channels beyond the small-scale volume Mini Melts is already doing with Gopuff. For Goldbelly, that would entail through-the-mail shipment with dry ice and a cooler, which challenges the profit margin, with more on-demand solutions required for true third-party delivery. 
On the brick-and-mortar side, the company is exploring partnerships in the mold of Dunkin' and Baskin Robbins co-branded stores. Teasing news coming in the "not-too-distant" future, Kilcoyne said matching his product with something complementary is a significant focus—with the ideal partner pairing ice cream's sweetness with something salty—think pretzels—or another dessert offering like an Italian ice brand, for example. 
Focusing on affordability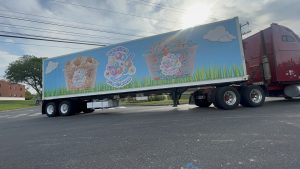 The company first explored automated kiosks shortly after the turn of the century in response to the challenges of staffing. Twenty years later, labor has only grown more difficult, and shifts in retail have taken the focus off malls in favor of event destinations or campus environments that provide a steady stream of foot traffic. 
These days, the higher adoption of credit cards and mobile payments mean that kiosks require less cash on hand, making the investment and maintenance easier for the operator or retail partner. 
Like so many other restaurant concepts, Mini Melts is exploring a loyalty offering that could provide coupons that could theoretically be used to drive kiosk customers to other retail destinations to make the product less of a special occasion choice, but something consumers can find in existing shopping destinations. 
Looking to brands like Wow Bao, which have found success in retailer settings and ghost kitchens, Kilcoyne said today's customers are open to trying new products and new fulfillment channels, which could include ghost kitchen environments that tend to focus on entrees rather than desserts. 
Similarly, he still sees opportunities with Uber Eats and DoorDash, which could be critical channels for a brand focused on significant geographic expansion. Given the inherently smaller basket size of a treat option, he added that he's focused on keeping Mini Melts as affordable as possible, regardless of the location or fulfillment platform. 
"I think we'll see a day and time where [third-party delivery] becomes a bit more fair to the consumer," Kilcoyne said. "Where we're a manufacturer, a distributor and, in some cases, a retailer, we have much more latitude to do that. All brands have to be cognizant of what's going on in this overall economic environment."