Serve Robotics announced a partnership with Uber Technologies, the world's largest combined ridesharing and food delivery platform. The on-demand robotic delivery service will be available to Uber Eats customers in Los Angeles starting early next year.
Founded in 2017 as the robotics division of Postmates, which Uber acquired in late 2020, Serve is now an independent company on a mission to make delivery more affordable, sustainable and accessible. Guided by its proprietary autonomous technology, the company's self-driving robots have successfully completed tens of thousands of contactless deliveries in major U.S. cities.
Serve is backed by Uber, alongside other leading investors.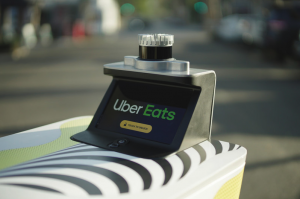 "Serve Robotics is looking forward to delivering great convenience for Uber Eats merchants and customers," said Dr. Ali Kashani, co-founder and CEO of Serve Robotics. "Uber is our first commercial partner and will be a strong source of demand for us as we use contactless delivery to power community commerce at scale."
"We are excited to partner with Serve Robotics to test a new kind of delivery in Los Angeles, that's safe, reliable and environmentally friendly," said Sarfraz Maredia, VP and head of Uber Eats in the US and Canada. "We're always looking for ways to better serve merchants and consumers, which is why we're working with the team at Serve to explore the potential of this technology."