With the advent of mobile food ordering apps and the growth of third-party delivery, more and more fast-food restaurants are launching off-premise models to better accommodate on-the-go customers.
Taking a more futuristic approach, McDonald's unveiled its new test restaurant, a smaller format specifically designed for speed and pickup orders.
Located outside of Fort Worth, Texas, the model features a drive-thru lane and a separate order-ahead lane for those who want to place their order before arrival. Customers in the
order-ahead lane receive their items via a food and beverage conveyor.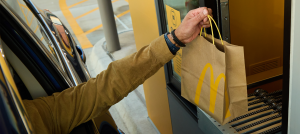 "At McDonald's, we've been setting the standard for drive-thrus for more than 45 years," said Max Carmona, McDonald's senior director of global design and restaurant development. "As our customers' needs continue to change, we are committed to finding new ways to serve them faster and easier than ever before."
The order-ahead lane uses technology that notifies employees when customers are near the restaurant, so they can get a head start on preparing the orders.
"It gives our restaurant team the ability to concentrate more and more on order speed and accuracy, which makes the experience more enjoyable for everyone," said Keith Vanecek, the franchisee operating the test restaurant.
Inside, the test restaurant features key differences from a traditional golden arches. This includes a delivery pickup room, kiosks to place carryout, a pickup shelf for to-go orders, and no dining room. Outside are several parking spots for curbside pickup and designated spaces for delivery.
Future of Fast Food
But McDonald's is far from the only QSR and fast-food restaurant launching new digital forward units this year.
Taco Bell opened its "Taco Bell Defy" location in Brooklyn Park, Minnesota. It features four drive-thru lanes, with three dedicated to orders placed by an app and third-party delivery. The two-story elevated location has a vertical lift that delivers food straight to the customer, at a goal of two minutes or less.
Chipotle opened its 500th Chipotlane, dedicated to mobile orders, and Jimmy Johns's launched its first drive-thru-only restaurant in Florida with two lanes, one specifically for online order pickup.
Additionally, Panera Bread recently introduced its test digital-focused shops in New York and Chicago, which are 40 percent smaller than its traditional locations, for rapid pickup and delivery.
While these examples only skim the surface of digital ordering moves in the fast food space, it's clear consumers will continue to see similar models pop up as speed and convenience dominate the must-haves for consumers moving forward.