Kiwibot, a Miami-based robotic delivery manufacturer with South American roots, announced that Loyola Marymount University in Los Angeles will soon be home to 25 of its self-driving robots designed with advanced technology.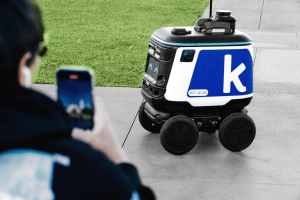 Calling it the first "High Driving Automation Campus," Kiwibot said the partnership will help elevate LMU as an innovation institution equipped to provide speedy, affordable, sustainable services to its college community. It's the latest of several high-profile partnerships between North American universities with robotic delivery providers.
Once students make their orders from the retail options on campus, including Qdoba, the high-driving Kiwibot robots generate multiple paths to reach the pre-established destination and alerts if an unexpected obstacle or event occurs in one of them. The Kiwibot receives the order and location point on a satellite map within the limits of a university campus, then navigates autonomously.
To achieve this, Kiwibots rely on GPS technology and a new autonomy platform with a high-tech satellite connection, which provides high-accuracy locations for self-driving machines. They also employ data from camera sensors combined with AI techniques to avoid obstacles and leverage a navigation system that generates multi-kilometer routes that make it possible to reach a pre-defined goal.
"At Kiwibot we believe cutting-edge technology rolling through the campus will benefit the community by providing efficient delivery services and a source of inspiration for students. Their presence and purpose are to open minds and generate new, sustainable ideas that can improve their own and their community's life," said Felipe Chavez, co-founder, and CEO of Kiwibot.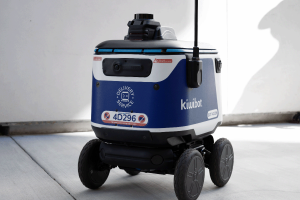 Kiwibot said its new autonomy platform makes it the company's safest and most efficient robot to date. For LMU students, staff, and faculty, this means reducing the wait time for food deliveries and having a faster and safer service at cost-effective rates, while sharing their day-to-day with state-of-the-art technology around their campus.
"After a successful launch of the Kiwibot delivery services last year, we are excited to participate in the implementation of this latest iteration in automated food-delivery technology," said Andrew O'Reilly, associate vice president for auxiliary and business services at LMU. "LMU has always been committed to building innovative partnerships, our goal is to continue to introduce innovative service solutions to our campus community."
One of the main allies in enhancing and accelerating Kiwibot's technology development is NVIDIA, a leading graphics, computing and artificial intelligence manufacturer. Their computer lets Kiwibot be at the forefront of the autonomous last-mile robotics field, focusing on its algorithms and architecture while relying on the horsepower contained in NVIDIA'S computing platforms.
"Kiwibot's strengthening of its autonomous platform further positions them as a market leader well-equipped to serve complex campus environments," said Kevin Rettle, global vice president of product development and digital innovation at Sodexo.
Kiwibot was founded in 2017, and launched its first pilot at the University of California-Berkeley campus. The company's robots have already made more than 200,000 deliveries on American campuses and cities.