It's been a few months since Target launched its Drive Up service where orders are delivered free of charge to motorists dwelling in designated spaces in the parking lot. Even though I wasn't hungover on New Year's Day, it was below zero in Minneapolis so I might as well have been. I required a few items for a new baking recipe, but was unwilling to wait in extra-long post-holiday checkout lines or brave the bitter cold longer than it took to dash into my pre-warmed car.
So, yes, conditions were perfect for such a test. The rest of the Target parking lot in suburban Minneapolis was crammed, but the two Drive Up spaces were wide open and close enough that I could see when somebody was bringing my goodies my way.
Signing up for the service was easy—I download the Target app onto my phone, connected it to my existing store account, and then it took care of the rest after I placed a $40-ish order from the comfort of my living room. As requested, I told the app when I left my house—just a quick tap—and then my phone notified the store once I pulled up into the Drive Up space. Real slick, Target.

The app immediately told me an associate was heading my way, but it took a few minutes for the friendly person to arrive. When installing the app and submitting my order, I had to plug in the basic description of my car—gray SUV—so I had a micro-panic attack when a similar gray crossover pulled up in the next Drive Up spot.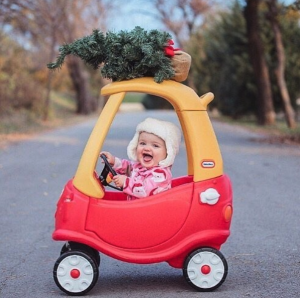 Apparently Target thought through such situations, as there was no mixup. The employee said hello, confirmed my name, asked me to sign her device, quickly scanned a code on my phone and asked where to load my goodies. It couldn't have been easier, although it would be amusing to see NASCAR pit stop-style urgency to complete the transaction in less than five seconds. Actually, a car wash, massage or oil change would be great pairings for Drive Up 2.0.
As somebody who's constantly researching the future of retail and restaurants, it's easy to let my mind wander and wonder if all stores should offer drive up. Thinking about my own haunts and purchases, boutique gift stores, greenhouses, anywhere with interesting handmade stuff and similar places should stick to the in-store experience—these places are where modern day shopping remains an experience. For anywhere else, where you're basically sidling up to the hog's trough for a refill of some boring goods, drive-up transactions are the way to go.
There is no experience visiting Home Depot, unless my husband and I argue about stain choices or can't agree on a faucet. The liquor store is not an experience aside from the occasionally stellar people watching. Ditto for the bank, Jersey Mike's or just about anywhere else that shows up on my latest bank statement. I did, however visit the lovely new Keg & Case food hall in St. Paul and a holiday market in downtown Minneapolis—both of which were fantastic urban jaunts while my parents were in town.
If you're selling commodity goods and not offering some type of soul-cleansing experience, I'm probably not interested in coming inside. With this nugget in mind—and thinking about my recent visit to the innovative GH Labs at the Mall of America—it's a little easier to predict the winners and losers in retail.
Getting back to my Target run, I could have tried one-hour Amazon delivery for the baking scale and raisins I ended up forgetting to include in my baking recipe, but I'd rather spread my discretionary dollars around when possible. It was a genuine experience having my goods delivered to me while dreaming about bypassing painfully slow cashiers or annoying fellow shoppers.
Target's Drive Up is sticky, using the parlance of our times. Having recently sworn off big-box grocery visits in favor of delivery or curbside pickup, skipping the hassles and time-sucks of Target for this mid-thirties yuppie is a worthy life upgrade. I may even bring my dogs with me next time.