General Motors was one of many automakers using this year's Consumer Electronics Show to debut new electric vehicles. On the delivery side, GM's BrightDrop last-mile delivery division showed off its fleet of electric delivery vans, and announced huge reservations from FedEx and Walmart.
This news signals that large-scale shipping firms like FedEx are quickly converting to electric vehicles, but also retailers—which has the ability to shift the economics of the entire delivery ecosystem in the coming years.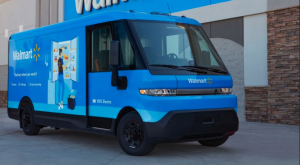 According to the GM, Walmart signed an agreement to reserve 5,000 of BrightDrop's EV600 and smaller EV410 electric delivery vans to support the retail giant's growing last-mile delivery network and goal of operating a zero-emissions logistics fleet by 2040.
FedEx signed an agreement reserving priority production for 2,000 electric delivery vans over the next few years, adding to the logistics firm's initial reservation of 500 BrightDrop EVs announced last year. FedEx is working on a plan to add up to 20,000 more in the coming years, with even longer-range plans to expand testing of its electrified container to 10 markets starting in 2022.
GM said both announcements "demonstrate growing momentum for BrightDrop's electric delivery solutions, with two major Fortune 500 companies." BrightDrop publicly launched as a business at last year's CES, and its first EV600 electric light commercial vehicles were delivered to FedEx last month.
The EV600 is built on GM's Ultium electric vehicle platform that will soon underpin a range of vehicles, including commercial delivery vans, high-zoot Cadillac luxury cars, the new GMC Hummer EV, and many other mass-market electric cars as the country's largest automaker joins its contemporaries in phasing out internal combustion engines.