HomeValet, a D.C. metro-based startup, has developed an automated solution for receiving at-home food deliveries that's designed to withstand the elements.
The Smart Box is a secure, temperature-controlled, internet-connected, outdoor receptacle—equipped with separate compartments for freezer, refrigerator and pantry items.
Described as a "high-tech storage locker," users can control, monitor, lock and unlock the Smart Box from anywhere via the HomeValet app.
HomeValet states the box "has an anchor point for securing it to the ground, however, the size and weight make it difficult to remove." It can also detect when the lid opens or closes, notifying the app and activating the security camera.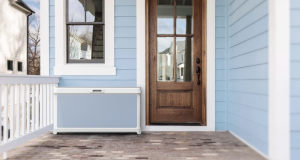 The model is powered by the U.S. standard 110V outlet with a backup battery providing up to 36 hours of cooling.
The system serves as an endpoint solution for food delivery, producing a secure drop-off spot for foods while keeping items fresh and temperature safe.
The model particularly benefits grocery delivery, keeping perishables safe while giving consumers flexibility in ordering and delivery times.
The launch comes as the FDA recently released safety guidance recommendations for third-party delivery, which currently lacks cold-chain compliant refrigeration and food temperature monitoring.
"Perishable food spoils on the porch just as easily as it does in a delivery vehicle, and consumers can get just as sick. The inadequacy of delivery endpoint receipt at the door or on the porch is not directly addressed in the FDA's guidance, although it is integral to direct-to-consumer and third-party-delivery commerce," said John Simms, HomeValet CEO.
"The Butterfly Effect of the FDA's December release of guidance targeting the unsafe home delivery of groceries and prepared food forecasts a hurricane of new rules," he added.
The topic of third-party delivery safety will presumably continue to heat up, and new tech, like the Smart Box, will likely emerge in response to growing concerns and the FDA guidance.
HomeValet's Smart Box is available in select states for a deposit of $50. The product typically runs for about $499 dollars.