Diners placing takeout orders from on-campus dining locations will now have the option for zero-waste packaging thanks to a partnership between Topanga.io and Grubhub. Reusable packaging is already available at Ohio State University and Colorado State, with more campuses coming online this year.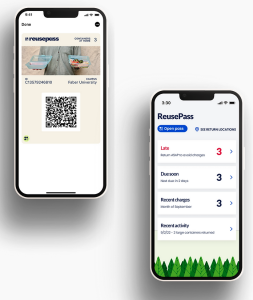 The partnership is through Topanga.io's ReusePass program, which manages reusable packaging operations to make it easier for restaurants to jump on board. 
Diners who place a to-go order from on-campus dining locations via the Grubhub app will be able to select reusable packaging at checkout. By selecting this option, their meals will be packaged in a reusable container using Topanga.io's track-and-trace technology, allowing campus diners to keep track of what containers they have and when they need to be returned. 
"Grubhub's campus partners have been vocal that sustainable solutions are a top priority, and we're looking forward to working with Topanga.io to support universities' sustainability efforts," said Adam Herbert, senior director of campus partnerships at Grubhub. "The campus dining world presents a large and scalable opportunity for sustainable solutions like this one, and we're excited to expand our suite of campus dining offerings to our partners."
"Grubhub is a leader in mobile ordering technology and has a great reputation among its campus partners, so we're thrilled to be working with them as we bring our mission to eliminate single-use packaging to campuses across the country," said Page Schult, CEO of Topanga.io. 
"We've been very intentional to build the best technology in the market, and it has been great to work with a leading provider like Grubhub to further bolster the strength of our campus offering," echoed Adam Bailey, CTO of Topanga.io.
"Sustainability is part of the culture for Student Life Dining Services at Ohio State University," said Zia Ahmed, senior director of dining services at the university. "We are pleased to work with our partners as we take key steps toward making progress in reducing waste and advancing our sustainability efforts."
"Colorado State University's residential dining services team has been eager to bring Topanga.io's ReusePass program to campus in partnership with Grubhub to expand on our sustainability initiatives," said Patrick St. Clair, assistant director, support services at Colorado State University. "It's efforts like this one that allows us to continue driving forward-thinking efforts and innovation within our residential dining program while leveraging and growing our program technologically. Today, we're excited to offer the Reusepass program to our students, faculty, and staff."
Grubhub partners with more than 270 college campuses across the United States to give students the ability to integrate meal plans directly into their Grubhub account and access restaurants both on- and off-campus for delivery and pickup. 
Topanga has helped QSRs, grocery delivery, and meal prep companies launch data-driven reusable packaging programs and is excited to bring their innovative technology to campuses nationwide. To date, they've helped their clients manage 1,200,000 reusable assets. 
Click HERE for more information on how administrators can bring this delivery experience to their campus.