Vromo announced a new delivery partnership with Uber Direct that's intended to provide white-label logistics solutions around the world. The venture will offer restaurants across the United States access to improved coverage and service levels at what the delivery management provider calls "the most competitive price available."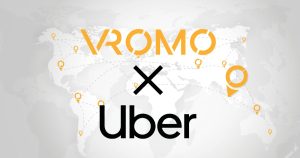 This partnership, in turn, will help supply meet demand as the restaurant sector experiences a shift in appetite for delivery services during times of global inflation. The goal is helping restaurants operate an efficient delivery model at scale, while providing excellent customer experiences with branded, customizable delivery tracking from kitchen to home.
Vromo said its partnership with Uber will help thousands of restaurants meet this demand by strengthening their delivery capabilities through greater coverage and lower rates. The combined solution provides restaurant operators with the opportunity to access a vast network of independent couriers for all delivery orders, or to supplement the efforts of the in-house delivery staff.
The company claims restaurants will be able to increase their delivery capacity while cutting associated costs by up to 24 percent. In addition, it will provide restaurant brands with better control over the customer journey, with order tracking links enabling them to interact and engage with consumers while they wait for their food.
"Throughout 2023, we expect to see even more restaurant brands strengthening their delivery capability. Our partnership with Uber Eats will help restaurants to increase their delivery fulfillment and drive down their operational costs," said Vromo CEO Brian Hickey. "Vromo was created to make delivery more profitable for restaurant brands and in doing so, help the sustainability of the sector at a time when market conditions are particularly challenging. We are delighted to have Uber Eats as our delivery partner and look forward to helping thousands of restaurant brands scale their delivery channels."
Bernie Huddlestun, head of Uber Direct for the US and Canada, said by deepening its Vromo engagement means "we can provide merchants of all sizes even more benefits as the demand—and opportunity—for digital ordering and delivery continues to grow."