As Grubhub is set for a boost in visibility thanks to a new national ad campaign touting its partnership with Taco Bell, the largest U.S. delivery provider disappointed Wall Street investors during this morning's fourth-quarter earnings call that showed solid order growth and positive projections for 2019 but failed to meet consensus forecasts for both its revenue and earnings per share.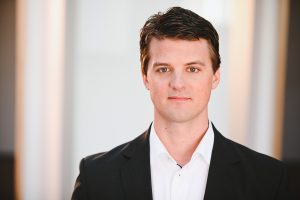 According to Seeking Alpha, the consensus quarterly revenue estimate for Grub was $289.98 million. The actual revenues came in at $288 million, which is a 40 percent year-over-year increase from $205 million in the fourth quarter of 2017. Gross food sales shot up 21 percent, to $1.4 billion, which is up from $1.1 billion in the same period last year. 
During prepared remarks and Q&A that followed, Grubhub CEO Matt Maloney (above) focused on the recent acquisitions of LevelUp and Tapingo during the earnings presentation, noting that active diners on the platform grew by 3.2 million. In addition, he said 2019 is looking favorable for the company as it focuses more of its efforts on driving volume in existing territories, rather than expanding geographically as much as it has in recent months.
"We deepened relationships with our restaurant partners through acquisitions of LevelUp and Tapingo, increased the number of restaurants that partner with us to more than 105,000, grew active diners on our platform by 3.2 million, and—most emblematic of the year—accelerated organic DAG [daily average Grubs] on our marketplace every single quarter," Maloney said.
Overall, the company posted a net loss of $5.2 million during the quarter, which reflects investments in technology, marketing and investing in fleets of drivers in new markets before demand catches up with supply.
During Q&A with investors on the call, Maloney said "we definitely see more opportunity than we ever have before" and suggested its future results would show an improvement in EBITDA and earnings per share as 2019 unfolds. Grub's stock initially was down nearly 20 percent on the news, but later recovered a portion of that drop as armchair investors and analysts alike further digested the cache of new data.
For the full report, visit investors.grubhub.com.