"Roku and chill" might be a clumsy addition to the modern vernacular, but the largest TV streaming provider in North America teaming up with DoorDash for on-screen meal delivery could become the next great American pastime.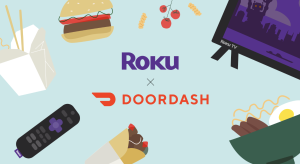 Through a new multi-year partnership that will give new and existing Roku account holders six free months of DashPass. The bigger news is, for the first year of the partnership, DoorDash will be the exclusive partner for "click-to-order" offers for restaurants and grocers that buy interactive ads on Roku, allowing viewers to order delivery right from the couch. 
This gives DoorDash merchants access to advertising on TV, which the delivery provider says is an industry first. This includes data and integrated technology that makes attributing, targeting and measuring TV streaming ads a seamless experience. 
Wendy's will be the first DoorDash brand partner at launch, offering Roku subscribers $5 off with any Wendy's purchase of $15 or more. Through March 12, consumers who see and interact with Wendy's ads on their Roku devices can opt to receive the promotion through SMS/email, and then are led to the storefront directly in the DoorDash app to redeem. 
According to internal Roku research, one in three Roku users order takeout or food delivery weekly. Furthermore, 36 percent of Roku users said they are interested in receiving interactive offers including a scannable QR code or text message.
"Streaming and delivery just go together which is why we're making it easier than ever for Roku users to order their favorite food right from their TV," said Gidon Katz, president, consumer experience at Roku. "Just in time for the big game, we're bringing consumers and marketers the same leading scale, data and tech that have made buying a new device or signing up for a service simple and delightful."
"We are thrilled to partner with Roku on this unique partnership," said Rob Edell, GM & head of consumer engagement at DoorDash. "While this offer unlocks DashPass benefits and perks for Roku users everywhere, it also provides our merchant partners with an opportunity to promote DoorDash offers through TV streaming. Consumers can conveniently and affordably get the best of their neighborhood delivered to their door, while brands can reach diners at the right time and drive instant conversion from the comfort of the living room."
Wendy's struck a similar note, saying that this new partnership is an exciting step in the maturation of delivery. 
"At Wendy's, we're consistently meeting our customers however they choose to engage with us. With increased preferences for mobile ordering and delivery … we're at our fans' doorstep, meeting and exceeding expectations for quality and convenience," said U.S. Chief Marketing Officer Carl Loredo. "Partnering with DoorDash and Roku as the first brand to enable shop-able TV offers is an exciting new step towards our goal of being the best in delivery."