After years of lackluster growth compared to the fast rise of meal delivery, U.S. consumers are starting to embrace online grocery shopping, with a new study arguing that groceries ordered in advance for delivery and pickup has passed a tipping point and "is now an undisputed inevitability."
Fabric, a New York-based micro-fulfillment brand focused on the grocery market—formerly called CommonSense Robotics—released an in-depth survey last month showing online grocery penetration tracking ahead of previous industry projections and on a path to more than double in the next five years.
"By 2024, the online share of grocery sales will likely be in the double digits, a metric that would have been unthinkable just a few short years ago," the study's introduction said. "After years of skepticism in an industry that's long been underpenetrated by e-commerce, 2019 made it official: All roads lead to online grocery."
The quick adoption of curbside pickup is a major factor in rising consumer adoption, with curbside pickup locations from major grocery retailers increasing by 68 percent during 2019. All told, 21 percent of the U.S. population tried curbside pickup last year, and the channel is now estimated to account for 70 percent of online grocery sales, according to numbers sourced from analyst firm Cowen's "2025 List on the Future of Retail."
Cowen estimates grocery curbside pickup could become a $30 billion to $35 billion channel by the end of 2020, which would account for 4 to 5 percent of the U.S. food and beverage market.
Walmart, in particular, has helped fuel this surge after rolling out 3,100 curbside pickup locations during 2019, which exceeded the company's previously stated plans. While Amazon's Prime Now Pickup service has been rolled out to almost 80 Whole Foods locations, Amazon's impact on the grocery category still pales in comparison to mega brands like Target, Kroger, Albertsons, Instacart and the aforementioned mega-retailer from Arkansas. Target has curbside pickup available from nearly all of its U.S. stores, which places it ahead of its biggest rivals, including Walmart.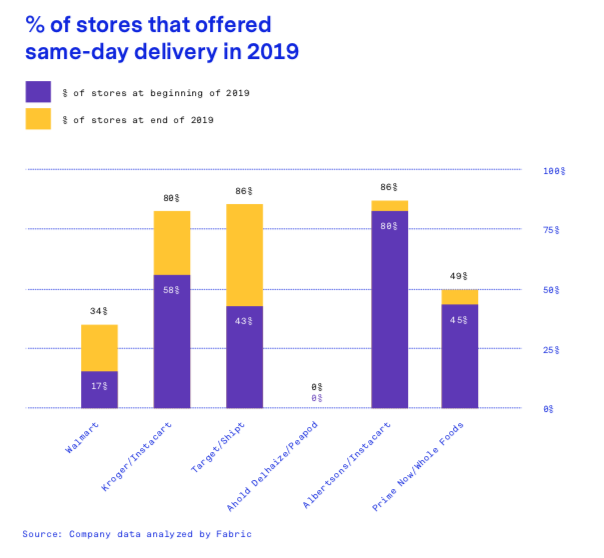 Getting even more convenient, same-day delivery of groceries grew by 48 percent in 2019, according to the study. Calling that growth "jaw dropping," Fabric said Amazon is "the real wild card for 2020" with its plans to rollout a new grocery store brand in California sometime this year. Instacart's impact stands out, too, as it's the fulfillment provider for mega grocery chains like Albertsons and Kroger.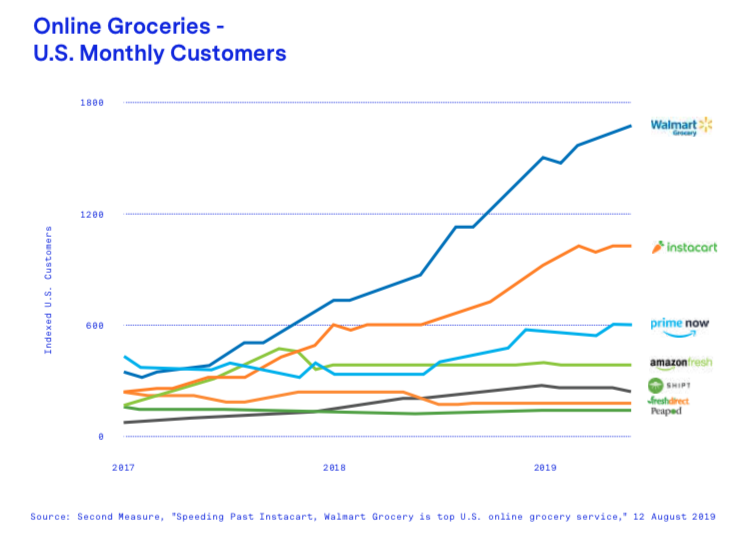 Looking at a line graph of U.S. monthly online grocery customers, Walmart is far ahead of the pack, followed by Instacart, Prime Now, Amazon Fresh and the Target-owned Shipt brand.
"Roughly half of the top 50 U.S. grocers have turned to Instacart," the study said. "Though estimates vary, Barclays believes that retailers using Instacart today account for 40 percent of total industry sales."
According to grocery research firm Brick Meets Click, Amazon will focus on leveraging its Prime program to attract more grocery customers, build out "strategically placed physical locations," and optimizing its product mix between national brands and private labels—all of which will come into sharper focus when its new store format debuts.
For the amount of time most of us spend trolling the aisles of supermarkets in a given week or month, it's natural that delivery and pickup keeps rising in the industry. With most big grocery brands looking to increase grab-and-go options, meal kits and prepared meals, expect your local brands to bring out the big guns to lure you out of your car and inside their four walls.