Two weeks after moving to buy Drizly, Uber announced its fourth-quarter financial results, which also included full-year results for 2020. The prime highlights are year-over-year delivery bookings up nearly 130 percent as food delivery has pulled even with its ride-sharing business. Even so, Uber reported a net loss of $968 million for the quarter, a 12 percent improvement over the previous quarter.
The numbers weren't all bad as Uber and other players in the food delivery and ride-sharing space continue struggling under the weight of the pandemic. Overall revenue came in at $3.2 billion, which is a 13 percent improvement over the third quarter. Trips across Uber's platform also grew 22 percent to 1.44 billion, which the company said points to an ongoing, albeit slow, recovery.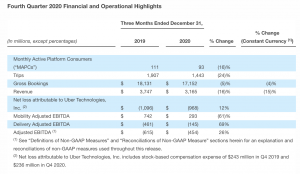 Zooming in on Uber Eats, gross bookings and revenue grew triple digits compared to the previous year, up 128 percent. Delivery gross bookings grew 18 percent during the fourth quarter to $10.1 billion. Delivery revenue grew 224 percent year over year. Overall, the Eats adjusted loss decreased to $145 million, which is a $38 million improvement over the previous quarter.
Active partnered restaurants on Uber Eats grew by more than 75 percent during the year, with notable additions including Union Square Hospitality Group, Chicken Salad Chick, Which Which, Pret a Manger, La Madeleine Country French Cafe, Ben & Jerry's and Papa John's in Canada.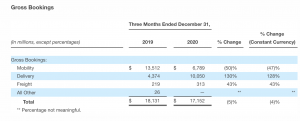 Uber finalized its purchase of Postmates on December 1, with the company saying, "We believe the acquisition adds a strong brand and loyal customer base, complimentary geographies, over 100,000 partnered restaurants, more than $4 billion of gross bookings and a large and growing non-food merchandise delivery as a service offering" representing 18 percent of Postmates orders in December, boosted by volume from Walmart, Apple and 7-Eleven."
Quotes from executives were:
"While 2020 certainly tested our resilience, it also dramatically accelerated our capabilities in local commerce, with our delivery business more than doubling over the year to a nearly $44 billion annual bookings run-rate in December," said Uber CEO Dara Khosrowshahi. "With two global businesses stitched together by world-class tech and increasingly valuable membership programs, we are more focused than ever on making people's lives a little bit easier—helping them go wherever they want and get whatever they need."
"We made some big moves this year, acquiring businesses like Cornershop and Postmates while divesting others like ATG and Jump, and structurally lowering our cost base," said Nelson Chai, CFO. "These decisions have resulted in a much more focused and ultimately stronger company. In Q4 we continued to deliver improving adjusted EBITDA performance, up $171 million quarter-over-quarter, and remain well on track to achieving our profitability goals in 2021."
Click here to dive into the full results.