Without the investor backing that's a staple of the delivery ecosystem, Black and Mobile is a fast-growing restaurant delivery provider punching above its weight class following a year where both the pandemic and social unrest put a national focus on elevating Black-owned businesses. Founded by twin brothers in their early 20s, the company is moving beyond its East Coast roots into other major U.S. cities as it works toward profitability and scales its operations up for another year of double-digit growth.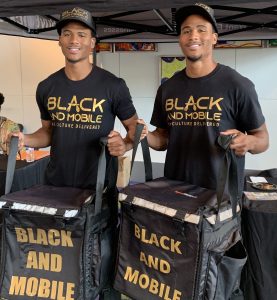 Building a management team and refining back-end software is common at any big-growth brand in the delivery space, but Black and Mobile is a more homegrown effort with founder and CEO David Cabello's brother, Aaron, specializing on dispatching and driver support and their mother, Renee, handling customer support and finding new Black-owned restaurants to bring onto the platform.
With big-time publicity from a recent profile in People magazine and collaborations with Jay-Z, Pharrell Williams and Pepsi, Black and Mobile has found itself as a cultural touchstone while its founder faces pressure from investors and other hangers-on that he said don't necessarily have his company's best interests in mind.
"It's not supposed to be fun," Cabello says of his newfound visibility and pressures in scaling the business. "In my point of view, this is survival, this is how I help my community… I don't think it's time for fun, it's time to really get down to business and make sure that we're helping."
Helping the Black community by providing jobs and keeping existing Black-owned businesses solvent is a broader objective than solely driving incremental volume at more typical, mass-market delivery providers. And it's one that Cabello is unwilling to compromise as investors come knocking as the company races toward profitability, which may already be at hand.
As Black & Mobile wraps up accounting for a year that saw its order volume swell from $25,000 to approximately $500,000 in the space of 12 historically chaotic months, Cabello said the privately held company might have already reached that elusive profitability threshold.
"My goal for 2022 is to hit that $250,000 per month goal," he said, adding, "I'm not on anyone's time, I'm not trying to compare myself to anyone else, all I want to do is keep growing—that's my only objective."
Even for a regional delivery player, Black and Mobile is smaller than many of its contemporaries. As a point of reference, Uber Eats processed $10.1 billion dollars of delivery orders during just the fourth quarter of 2020. In the beginning of 2021, Black and Mobile onboarded its 100th restaurant, with more than 300 drivers and 90,000 app downloads.
Young and ready to help

African Americans are at a much higher risk of contracting COVID-19 than the rest of the population and, according to ProPublica, the unemployment rate for Black workers in the U.S. is more than double that of their white counterparts.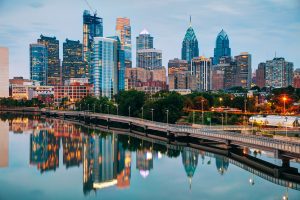 As much larger third-party delivery services have rolled out features and promotions to promote Black-owned merchants in recent months, Black and Mobile's exclusive focus on only Black-owned restaurants will remain core to its mission as the company plots its first moves beyond the company's initial markets of Philadelphia, Detroit, Atlanta and Baltimore.
Depending on circumstances and timing, which includes an upgrade to back-end technology that negatively impacted its 2020 operations, the company is looking to enter New York City, Los Angeles and Houston later this year as it pushes toward its founder's revenue goals.
Communicating the company's vision has come with challenges in the field, with some operators bristling at its undivided focus on Black-owned merchants. As Cabello explained, some potential partners have expressed concerns that its platform is some exclusionary form of reverse racism. Countering that perception has been a hurdle, but he views the company's focus as additive to the restaurant industry, rather than something taken away from anyone else.
"Some restaurants don't want to partner with us at all. We're young, they don't think we're ready and they don't think we're a real company," Cabello said. "Some people, when they find out we exist [say] that's not real, that's racist, that's this and that, and I think it's more about shedding light and enlightening people about what we're doing—it's nothing about hating people, it's more about loving our own people and helping people who have been unprotected, that's the No. 1 mission."
Cabello argued that larger delivery providers waiving certain fees or extending financial support to Black-owned merchants on their platforms, while well-intentioned, didn't actually improve delivery economics for the highlighted restaurants.
"It's all about capitalizing off of the Black community," he said. "My objective isn't to come and attack them, it's to point out the facts, and these restaurants want another option and that's where my company comes in."
Gig driver to delivery CEO
The idea for starting Black and Mobile first entered Cabello's mind in 2017. After dropping out of college the previous year, he spent all of 2018 researching the industry while he was still working as a driver for Uber Eats and Caviar. He officially launched the company during Black History Month in February of 2019.
Compared to those early days where he wore all the hats and worked on the business seven days a week, Cabello said his current day-to-day is less fun, but increasingly important to the restaurants within its markets. The company recently began working with a Black-owned development company, as well as Figure 8 Logistics, to plot its next moves, in terms of geography, human capital and infrastructure.
"Black people working together" is what it will take for his company to find success in new markets, Cabello said, adding that the African American community has "been working for everyone else, and now we need to learn how to work for ourselves as well and put in that same amount of energy."
Cabello said his family was poor when he and his brother were growing up, and that his dreams of becoming an entrepreneur were a direct result of his drive to provide for himself. Now that his focus has expanded to providing for other entrepreneurs within his racial group, creating jobs and keeping economic activity within the community is now his primary driver as he's learned more about the impact of delivery fees on independent restaurateurs.
While larger delivery providers move into the convenience and grocery categories, among others, Cabello said his company is "definitely" going into other categories, as well, but said other verticals likely wouldn't eclipse its restaurant volume, adding that "there aren't too many Black people who own grocery stores."
Black and Mobile's drivers are all independent contractors, and its social channels highlight its status as a second-chance company willing to hire workers with non-traditional backgrounds, including those with a criminal record. It advertises the opportunity to earn $10 to $20 per hour, along with receiving 100 percent of tips from customers.
Restaurant partners are charged a 20-percent commission, and Cabello said that number is "only going to go lower," with a goal of bringing its commission closer to the 15 to 20 percent range. The company informally advises its restaurants to increase the price of menu items to ensure "if we're charging 20 percent, that means you go up 20 percent on the price of food and you're not losing any money."
With delivery-only ghost kitchens emerging as a major growth opportunity on the back side of the pandemic, Cabello said he is paying close attention to the category and suggested he had wheels in motion to test the waters, which Cabello said could align with his goal "to help our people get business and help them open businesses."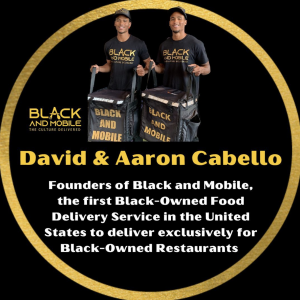 As the CEO's profile grows with increased media exposure and its grassroots marketing, Cabello said slowing down and taking a break these days tends to mean brief visits to his local gym where, "everyone knows me from Black and Mobile … it's Black and Mobile all the time."
That hype and increasingly packed calendar hasn't detracted from Cabello's efforts to slow down and grow strategically, while trying to surround himself with people he can learn from, whether that's consultants, informal advisors or curious investors.
"I would love people to come help me grow this to something bigger, as long as it's beneficial for me and the community," Cabello added. "I just know that I'm not rushing. If I keep building the infrastructure out and keep going at the speed I'm going at, my company will only be worth more by the time the right investor comes."