DoorDash released two bits of news this week, with the launch of its first-ever rewards credit card through Chase, as well as a new partnership with Aldi that's set to shake up the on-demand grocery space.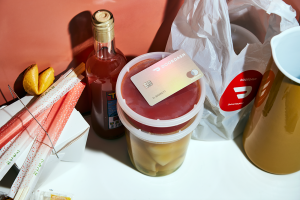 While Aldi is a big deal, as the eighth-largest U.S. grocery chain by sales according to Supermarket News, the largest delivery provider's new DoorDash Rewards Mastercard through Chase could effectively lower the cost of delivery for scores of cardmembers.
The new credit card will reward customers for dining, whether they order in, dine out or pick up ingredients for a home-cooked meal.
The no annual fee DoorDash Rewards Mastercard key benefits include 4 percent cash back on DoorDash and Caviar orders, 3 percent cash back on dining when purchased directly from a restaurant, online or in-store, 2 percent cash back on grocery stores, online or in-store, and 1 percent cash back on all other purchases
The launch offer for new cardmembers includes a free year of DashPass (which typically costs $96) with the ability to extend their complimentary DashPass every anniversary year they spend $10,000, and for a limited-time a $100 cash bonus after spending $500 on purchases in the first three months from account opening.
Additional exclusive cardmember benefits include 10 percent off first order of $35 or more each month (up to $15 per order) through 8/1/23 on convenience, grocery, alcohol and DashMart purchases and $25 off the first two nationwide shipping orders of $100 or more.
According to the details of the grocery partnership, the DoorDash-Aldi tie-up will bring same-day delivery to more than 2,100 Aldi locations in 38 U.S. states.
In a press release, DoorDash said the addition of German-based Aldi to its roster—one of the fastest growing retailers in the country, more than 98 percent of DoorDash's monthly customers will have access to a non-restaurant store on its platform.
"By partnering with DoorDash, we can conveniently bring our award-winning, fresh and affordable groceries to even more of our customers' doors with the click of a button," said Scott Patton, vice president of national buying at Aldi. "Whether shopping for a weekly grocery haul or in need of a few extra ingredients for tonight's dinner, our customers now have another way to shop Aldi for all their grocery needs."
Through this partnership, DoorDash customers can shop for everything Aldi offers, including fresh produce, meat, seafood, dairy, bread, household essentials and exclusive products often referred to as "Aldi finds."
"Since launching grocery in 2020, Aldi has been one of our consumers' most highly requested grocers. We're thrilled to welcome the beloved Aldi brand to DoorDash," said Fuad Hannon, VP of new verticals at DoorDash. "Our partnership with Aldi provides customers access to the retailer's affordable staples and cult favorites with the speed and reliability of DoorDash. Additionally, consumers can consolidate all their shopping needs from fresh foods to household essentials on DoorDash as their one-stop shop."
All participating Aldi stores will be available on DashPass, DoorDash's membership program. DashPass members can enjoy these benefits on eligible Aldi orders.