Guy Fieri's Flavortown Kitchen is the latest celebrity-backed virtual restaurant from Virtual Dining Concepts (VDC), and since its rollout in early 2021, Flavortown Kitchen is already up to approximately 160 locations up and running.
Founded by Robert Earl, a restaurant veteran who created Planet Hollywood and owns chains including Buca di Beppo and Earl of Sandwich, the majority of Guy Fieri's Flavortown locations are operating inside Earl's own restaurants.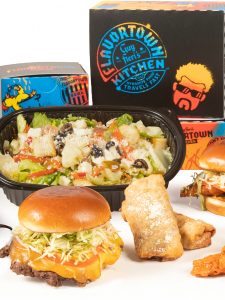 "This is about our industry understanding the merits of having virtual brands inside their kitchen," Earl said of VDC's growth. "There are just no negatives of any bricks-and-mortar [restaurants] carrying a virtual brand or two—it's a win, win, win all the way through pre-COVID, during COVID and post-COVID, it's just a support mechanism for your core brand."
Celebrity chef Guy Fieri is a personal friend of Earl's, and the two began collaborating on a virtual restaurant before the start of the COVID-19 pandemic.
"When Robert came to me with the idea of making some of my all-time favorite, real-deal menu items available in virtual kitchens across the country, I was all in," Fieri said.
The brand's menu covers familiar territory for delivery-only virtual restaurants, including bacon-wrapped jalapeño poppers, cheesesteak egg rolls, chicken wings, burgers, chicken sandwiches, veggie burgers and entrées including Cajun chicken alfredo and the Italian Stallion Salad.
Compared to other concepts in the VDC portfolio, Flavortown Kitchen is seeing a higher basket size due to customers adding on appetizers, Earl said, which include Flavortown Fries, Mac Daddy Mac N Cheese and Fried Pickles & Ranch dressing.
"When you come to one of the top chefs in the world, it's very different than just going with a YouTuber, because in the case of the chef, it's their day job, it's their bread and butter," Earl added. "With Guy, he basically said this is my menu, these are my most popular items, how do you feel about them? I can't think of one of them that we rejected because they're all … very on brand."
Earl said Flavortown Kitchen is ideally suited to "full dinner-house kitchens." Asked if Flavortown Kitchen would be a good fit for restaurants that already sell similar menu items, Earl said it depends on the philosophy of the host kitchen's operator, adding that "the brand that Virtual Dining Concepts is offering you is going to be in your geographic region anyway."
While VDC's virtual concept portfolio includes brands tied to Mariah Carey and Mario Lopez, among others, Earl said its MrBeast Burgers virtual concept could reach 1,000 operating locations by the end of the second fiscal quarter of 2021.
"We've done 1 million entrées already and it got so much attention," Earl said of the YouTube star Jimmy Donaldson, also known as MrBeast. "He's a wonderful partner, he's intent on building with us a big, permanent brand, and we've got lots of continued upgrades on the brand coming out."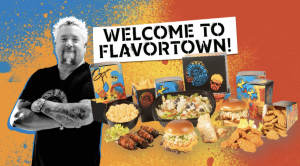 Now that his headquarters team is getting "more sophisticated by the day" as it grows from 20 to nearly 60 team members, Earl said the company will soon be expanding outside the borders of the United States. With more experience, its team is placing a greater focus not just on kitchen equipment for prospective partners, but also how busy various equipment and stations are within the kitchen to minimize stress and negative impacts to a restaurant's existing dine-in business.
Earl intimated that VDC has several additional celebrity-backed brands coming soon, adding that the company is also scouting real estate locations in New York where it hopes to build a centralized location for all of its virtual brands. Such a multi-brand location—which would technically be a ghost kitchen—could include the ability for customer takeout, which is not currently part of the company's business model.
Consumers can only order from Guy Fieri's Flavortown Kitchen delivery-only menu online, through the app, which is available for download from the Apple Store or Google Play, and through most third-party delivery apps including Grubhub, DoorDash, Postmates, UberEats and Seamless.