Editor's note: Charlie Morrison is headlining this year's Food On Demand Conference, happening May 3-5 at The Cosmopolitan in Las Vegas. Charlie will be interviewed on stage by Results Thru Strategy CEO Fred LeFranc at 1 PM on Wednesday, May 3. 
After a decade at the helm of Wingstop, one of the most digitally forward restaurants in the business, CEO Charlie Morrison shocked the industry when he stepped down and joined Salad and Go, a much smaller chain with similarly enormous aspirations.
Just before the one-year anniversary of his big move—and ahead of his keynote at this year's Food On Demand Conference—we had a virtual sit-down with Morrison to discuss why he left Wingstop, what learnings he's brought along for the ride, and how he plans to grow Arizona-based Salad and Go to 1,000 units in the coming years.
Such lofty growth projections might appear to defy gravity in an industry where many say we don't need to be building new kitchens, but Morrison has successfully done this before. After taking Wingstop public in 2015, Morrison's team grew the brand to nearly 2,000 stores in markets around the world before the end of his tenure.
Asking what appealed to him about Salad and Go, which doesn't have dining rooms and can operate in boxes as small as 750 square feet, it was clear Morrison is a builder at heart and is excited to do it again—at warp speed.
"I've always felt like a smaller company is more tailored to what I do, and I like to be very close to a business," Morrison said. "A large, scaled public company is much different in that regard."
After joining Salad and Go's board in late 2020, and participating in the search process for a new CEO, a long conversation with his wife ultimately convinced him it was a good idea to "jump in and build another one, and I am having fun—it's a great time."
Small box, big value play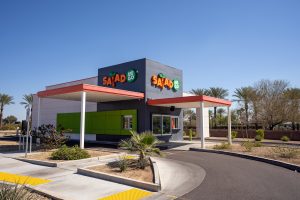 Condensed into unusually small storefronts, Salad and Go appears to be designed as a counterpoint to Sweetgreen's higher price points and upscale positioning. A 48-ounce bowl of salad with either or chicken and tofu goes for $6.42, a great range to be at a moment characterized by sustained inflation and lingering supply chain challenges.
"A lot of clean, for not a lot of green," is the apt tagline on the brand's website, and awfully similar to Sweetgreen's "more greens for your green." Compared to Sweetgreen's California-chic items like its Shroomami bowls and Super Green Goddess salad, Salad and Go's menu is a throwback to a simpler time—with Cobb, Greek and Jalapeno Ranch salads.
They're paired with house-made drinks like lemonade, Arnold Palmers and cold brew coffee, all priced at $1.24. The concept also offers simple breakfast items for $3.34. As a final point of differentiation, most salads at Sweetgreen are approaching $15.
Those cut-rate menu items are made possible by Salad and Go's vertical integration, which relies on nearby production facilities that can each serve up to 400 stores. At present, the brand has one such facility in Arizona and one in Texas, where the brand opened 25 stores during the past year.
As the cornerstone of its expansion plans, the company's goal is quickly building as many locations within earshot of those production facilities to reach maximum efficiency as the brand scales up beyond its current stable of 80+ locations. At present, its key markets are Phoenix, Dallas-Fort Worth and Oklahoma City. The company recently opened its first locations in Las Vegas and Houston, with a goal of 50 additional units by the end of 2023.
Salad and Go doesn't offer delivery, although it might further down the line. Morrison emphasizes that off-premises can be more efficiently served via double drive-thru lanes, one for on-the-spot customers and another to pick up mobile orders. It's not a stretch to picture DoorDash or Uber Eats drivers joining that in line at some point, but Morrison is hesitant to turn its affordable salads into larger tickets for a single diner, which pushes against the brand's core philosophy.
"I've done this long enough to see the cyclicality of pricing. It comes and goes, and right now the market's in a value orientation," Morrison said, adding that these dynamics are a great fit for Salad and Go's pricing. "What we've been able to do with our vertically integrated model is take a lot of cost out of the system and return that back to the consumer so we can, if you will, democratize salads for all."
While he and his procurement team still have to monitor chicken and beef commodity prices, it's nothing like how critical chicken prices were in Morrison's Wingstop days.
Entirely off premises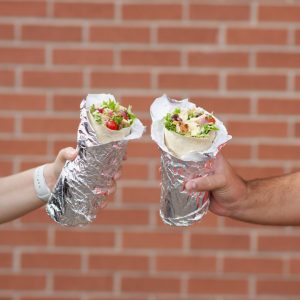 As Morrison sizes up his competitive space, he sees high-end salads as something that's excluding a large swath of the population, and depriving them of healthier options than burgers and pizza.
This mindset translates to Salad and Go's real estate strategy, which pulls elements from the Wingstop playbook that was willing to go into more urban, B- and C-level spaces that many brands overlooked. At his new concept, the small footprint opens up outlots for big-box stores like Lowe's and Home Depot, but also makes it possible to go into the parking lot of grocery stores, too.
While every brand seemingly wants drive-thrus these days, Morrison says Salad and Go's price point also opens up different demographics that other concepts might overlook, which can flow between suburban and urban markets.
"All of our consumption is off-premises," he said. "The price point makes it challenging with the economics of delivery, but it doesn't mean it's a no."
Like nearly every restaurant, the company is currently investing in technology, much of which is focused on improving the guest experience and driving more consumption online. Tablet-equipped employees often head outside to expedite customers waiting to pick up mobile orders or those with smaller ticket sizes.
That said, he remains skeptical of automated voice technology in the drive-thru, which he says is difficult to do, and inferior to human interaction. Identifying repeat customers, however, is easily attainable, he said, even with stores operating with as few as three staffers at certain times. Most guests are currently in and out in under three minutes.
Looking ahead, Morrison expects to replicate Wingstop's success in transitioning the bulk of its customers to pre-ordering online. As with many brands, drive-thrus are the ideal antidote to the fees and commissions of third-party delivery, both for the end users and the restaurants.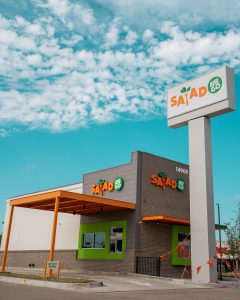 "In the coming years, value's going to be so important that paying a $5 fee on top of the base price of your food is going to be something guests and consumers are going to reject, unless they're at the absolute upper end of the price tier," he said. "I don't want to take a $6.42 salad and turn it into a $15 occasion."
Asked how ghost kitchens might factor into growth plans, Morrison said such facilities can be "especially opportunistic" thinking about catering, large office parties and corporate lunches, which are often challenging for space-constrained restaurants.
"We did [ghost kitchen locations] at Wingstop when I was there," he said. "We built out New York City with a ghost kitchen strategy. I love them and think they're great. It's a great opportunity for the right brand, but the key for us at our stage is just making sure we don't get ahead of our skis."