In the wake of a recent $50 million Series B, Lunchbox's loud-and-proud co-founder and CEO, Nabeel Alamgir, is pushing to diversify the restaurant tech brand beyond its roots of online ordering, delivery integrations and multi-channel marketing.
Flush with cash and on the gas, the startup's software engineers are creating virtual reality-based dining environments to accompany virtual restaurant brands desperate to create "an experience" for customers, and using smartphone beacon technology to remove the most frustrating parts of dining inside traditional restaurants, too.
All the while, Alamgir is keeping a close watch on the hot restaurant tech M&A scene as Lunchbox continues expanding its customer base, partnering with adjacent service providers and building out recent virtual restaurant partnerships with C3, Virturant and Virtual Dining Concepts. He clearly wants to diversify Lunchbox even further.
He can "middle"
A self-made founder who enjoys the challenges of being a CEO on the rise, Alamgir arrives at every interview with unmatchable energy and soundbites, likening his role to successfully occupying the middle seat at a dinner party—the first of many forthcoming Larry David references.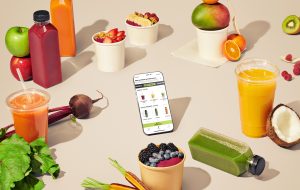 Sizing up recent industry acquisitions before getting into his own company's moves, Alamgir contrasted DoorDash buying Bbot to Olo buying Omnivore, which he viewed as one company buying to improve their tech stack—DoorDash—while he derided Olo as "buying companies to defend whatever little innovation they ever had, which is not much."
Throwing bombs around the delivery landscape is Alamgir in his natural habitat, and he came to the savannah especially well rested on this particular Thursday. Executives from DoorDash participated in Lunchbox's $50 million Series B investment that closed in February.
"I'm excited to come in and give the industry a proper technology stack, not an ordering system, but give them a chance to build a digital storefront," he added. "What Olo does, plus what a loyalty company does, plus what an engagement company does, plus what a design shop does—that's Lunchbox and I'm excited to go and keep doing that."
Throwing around some industry shade was a transition to drive home the point that recent market volatility has radically changed the calculus for investors and company leaders in Alamgir's view, especially those that relied on investor dollars to fund market share growth.
"The market in January, wow, it completely changed the multiples and what investors are looking at—they aren't going to give you 100X [valuations] anymore for no reason," he said. "You're going to have to have substantial year-over-year growth. You're going to have to have good margins and you have to actually have good fiscal health internally on how you operate. Those were things that didn't matter three months ago, and now it matters a lot."
Asked how his company can avoid the kinds of criticisms he frequently lobs at others like Grubhub (see Lunchbox's NotGrubhub.org online ordering site) as it scales, Alamgir stressed Lunchbox is "not a great company, we're a good company on our way to being great." Reaching that higher plane, he said, will result from improving its margins over the next 90 days, a deeper focus on innovation, listening more to the needs of its customers, and some factors that are out of any individual's hands—what he called the company's heartbeat.
"I wish we were better at listening to our customers," he said. "On our worst day we're better than everyone else out there—especially Olo—but I think there's a lot of improvements we can make, and I think there's a line in [The Dark Knight], which is you live long enough, then you become the villain, and we want to make sure we know where our roots are."
Back on the big picture
With so much cash in hand, and the assumption that market conditions may have shut off the investor tap for the foreseeable future, Lunchbox is focused on bolstering its leadership team, which includes new Chief Operating Officer Kieran Luke who joined the company from General Assembly, an education and career transition firm, and Boston Consulting Group before that.
This larger leadership team and constricted investment climate is allowing Alamgir to get back to focusing on big-picture product innovations, including his desire to transform the on-premises dining experience in ways that haven't been as drastic as those in the off-premises side of the business.
Fellow co-founders Hadi Rashid and Andrew Boryk are leading the charge on a new product based on smartphone beacon technology that will notify restaurants as soon as customers arrive, automatically connecting them to rewards programs, in-store wifi, ordering and payments "so you're not scanning anything, not paying with Apple Pay, you're skipping a lot of these things."
To Alamgir, this is the natural next wave of advancement in the industry, as he asks, "Why can't you just know I'm here?" From his view, "the delivery companies have always struggled to do dine-in, the dine-in companies have always struggled to do digital—we're trying to bring in a 360 view."
This location-based technology is especially important because third-party delivery customers, direct ordering customers and dine-in customers are "three very different people, and some of them have ordered delivery from you but have never walked into your restaurant." In theory, connecting these three disparate environments will give restaurant operators much better customer data and transform their marketing efforts.
Dining with The Sims
Sharing his screen, Alamgir brought me into a virtual virtual restaurant—and that's not a typo. Building on the promise of immersive virtual reality technology, these days referred to as the metaverse, Alamgir showed an early-stage version of a digital dining room where customers enjoying a virtual restaurant brand could hang out together, like on a Zoom call, to provide an actual experience accompanying the host of virtual concepts spreading across the industry. It's a concept that could have applications to traditional restaurants, too.
Oddly pitched as a non-fungible token (NFT), which seems like a tenuous connection to the wave of sale-able things like digital art, music and other collectible items, Alamgir said Lunchbox is trying to push the envelope and use "the Web3 space" to bring a personal experience to the virtual restaurant landscape in a way that can't be done with flashy packaging.
Think of it like a digital passport that eases check in, allows in-store guests to peruse the menu without waiting for physical copies, speeds the after-dinner payment process, makes loyalty a hands-off process, and could lead to countless innovations as dining in catching up with the technology leveraged on off-premises dining.
"There are two versions of this conversation we'll always have is someone doing it lazy and someone doing it well. We've seen it in virtual kitchens, someone is throwing stuff at the wall and someone's going to do it really, really well like C3 and Salted—that repeats in every industry, including in NFT," he said. "Us launching more artwork is not pushing NFT forward."
While stressing this digital environment remains a work in progress, and resembles an early version of The Sims, Alamgir said the company has sold the concept to Bareburger with hopes of more brands seeing the potential of virtual spaces and digital-forward restaurant brands to connect customers in different places.
Call it what you want
Back in the physical world, Alamgir said the "price of cash" going up means Lunchbox has to brace itself for a new phase and "buy ourselves two years" without a next fundraising round, even though he stressed he still has a lot of confidence in that realm.
"I am excited for us to not depend on knowing, so we're going to slow down in some areas," he said. "You're going to see a company that's going to have to make hard decisions to be disciplined, and I have a proper leadership team around me that can help do that, that can make those difficult decisions, and we are going to hold onto cash tighter than we did last year, and all startups should."
As for whether execs from DoorDash joining in that latest fundraising round will calm his famously acidic tongue, Alamgir suggested his tone and that of Lunchbox wouldn't be changing any time soon.
"We believe in radical candor," he said, pointing to a picture of Larry David on his office wall. "We're a company born in New York. We love all people. We talk and sound like New Yorkers. We're not assholes, but we are direct, so my response to you is, part of our core value is to be direct and call it like it is."