As the outspoken CEO of a tech company trying to break restaurant dependency on third-party delivery services, Nabeel Alamgir of Lunchbox is more of a happy warrior than an angry naysayer. Even in saying "the bad guys are winning" when talking about the largest delivery providers, his message of restaurant independence feels like equal parts pep talk and rallying cry.
With his intense enthusiasm, a rags-to-riches backstory and bold-faced marketing chops, Alamgir has convinced investors—to the tune of $20 million—that his Lunchbox startup can build something "as beautiful as Sweetgreen" while teaching restaurants how to authentically talk to their customers and save their bottom lines along the way.
Talking with Alamgir is a blizzard of intensity, enthusiasm and quick pivots from one topic to the next. His infectious energy makes you consider bootstrapping your own startup, forming a band or handing a fist full of cash to the nearest hard-working delivery driver—which is something Lunchbox broadcast on social media before the holidays.
Like a handful of freshly capitalized restaurant technology brands, Lunchbox sees its role in the industry as larger than just a provider of online ordering, delivery integrations, pocket kiosks and web-based marketing campaigns. Alamgir's overarching mission is to use restaurant people and a hospitality mindset to solve a vexing problem for the industry: taking power back from the largest delivery brands and making sure restaurants and delivery drivers are doing more than just getting by.
Before the company secured its eight-figure investment last October, Alamgir was already sliding into the role of a delivery-industry activist who isn't afraid of the risks that come from criticizing Grubhub or DoorDash, whose Vice President Toby Espinosa is an early investor in Lunchbox—and one of Alamgir's mentors. As he puts it, he can respect what those industry giants have built, without feeling good about the macro impacts on restaurant operators.
"We're very aggressive when it comes to our sentiment about [delivery providers], because they're very aggressive when it comes to not sharing data with us," Alamgir said, roping himself in with restaurants that want access to third-party customer data.
Asked how he squares having a DoorDash VP as an investor, while championing restaurants to take their power back from mega delivery brands, Alamgir said his feelings are more nuanced, especially when comparing other delivery brands to Grubhub, which he says has "consistently done the wrong thing" for restaurants.
"I know how hard it is to start a company, and one of my feelings is: good for them," Alamgir said about DoorDash. "My second feeling is how it's a third-party company and I don't love them. I don't love what they are doing to our industry, I don't love how the money is not going to restaurants, the money is going to go into different verticals like retail and groceries and other concepts they'll invest in."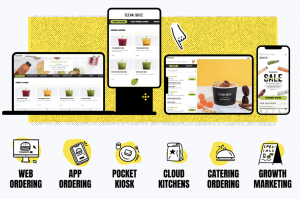 Going deeper on the crazy-fast rise of national delivery marketplaces, Alamgir said he was donning his founder's hat to find the silver lining. "Look at the validation this is giving to our industry," he said of the aggregate investor funds flowing into the industry. "We need to continue to move faster if we want to coexist and not get absolutely crushed."
He stressed that he can simultaneously respect and chastise the industry by acknowledging the scale of what they've built while trying to make the economics work for the smaller independents struggling to survive this moment in history—which has become its own fast-growing niche within the restaurant technology space.
"The place where we got lucky was, we started last year [2019] before the pandemic, so we had somewhat of a footing to invest in what we're building, which is two things: build something as beautiful as what Sweetgreen has built and teach restaurants to talk to their customers," Alamgir said.
That marketing side of Lunchbox is what the company calls its "Growth Hacking Toolkit," which is designed to get restaurants to a point where at least half of their off-premises sales are coming through direct, native channels. While many restaurants have that goal of a much smaller impact from delivery commissions, getting there is famously difficult as consumers enjoy the simplicity of pulling up a third-party marketplace rather than going to restaurant apps and websites directly.
Lunchbox's purview also includes automated, personalized marketing messages that feel personal to the brands, rather than one size fits all. Its offerings extend to push notifications, print marketing campaigns and loyalty programs that pump up a restaurant's unique personality, rather than offering something like a 10-percent-off discount across the board—the digital equivalent of a free sandwich punch card. Those types of promotions are things Alamgir clearly finds lacking in effort, originality and authenticity.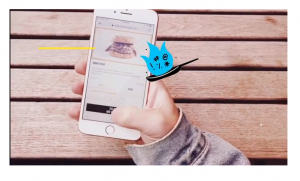 "You have to be yourself digitally and, when in doubt, you have to pretend to be yourself, which is, whatever your restaurant makes you feel, you need to do that online," he added on conversion-focused marketing. "It can't just be an e-commerce system, it has to be an extension of your ethos and that's what we help restaurants build when we focus so much on the first part of the company, which is the design and the layout and the visuals, if you will."
While it's still a work in progress, Lunchbox is working on what it calls an SMB model, which would include giving small-scale independent restaurant operators the same tech functionality that's as "amazing as what all the top-tier systems have." That's expected to launch by the end of 2021, and what Alamgir calls "doing something for the community and not just preaching."
So far, Lunchbox's restaurant clients are currently at a claimed 54 percent direct ordering, with some as high as 70 percent, which he says is "rare" and so far only achievable in the QSR space and with "very savvy operators."
Referencing his years spent at Bareburger, where he started as a busboy and worked himself up to chief marketing officer, Alamgir said larger restaurant groups need a passionate focus from dedicated personnel to try many different tactics to convert third-party customers to first-party channels to find what works for each individual brand.
Lunchbox Creative Director Zach McCurdy said successful conversion often comes down to consistent verbiage and an ongoing effort to educate guests about how their favorite restaurants benefit from direct ordering, which he called "laying the foundation." From there, building a better user experience with an easier ordering flow for guests is a priority that's paired with marketing campaigns to recapture lost guests and bring new ones into the fold.
"We have a generation coming up that wants a lot of transparency … and I think they are growing aware as consumers about what it means to order from these third-party marketplaces," McCurdy said. "Some of that education is being done by the consumer knowing that we don't have to push too hard, we don't have to find ways to shove it down their throat, because you don't want to hit it over the head too hard."
Striking the right balance, he added, includes using data-driven incentives to make it in the customer's best interest to order directly.
One of Lunchbox's biggest post-funding gets is a partnership with SBE Entertainment Group, whose C3 subsidiary is bringing new food halls and ghost kitchens to high-profile real estate sights like the Manhattan West development next to Hudson Yards in New York City.
The company is working with C3 to build an online ordering system that ropes multiple brands under one online ordering experience, which has applications to other ghost kitchen and virtual restaurant brands that are quickly proliferating across the North American restaurant scene.
While that's just one partnership among many for Lunchbox, the idea of banding together—whether that's multiple brands in a food hall or ghost kitchen, or the restaurant industry as a whole—is a theme in everything the company does, including merchandise loudly branded with "Restaurant Renegades."
Other Lunchbox clients include Clean Juice, Cauliflower Pizza, Hissho Sushi, Honeygrow, Naked Farmer, Mexicue, David Chang's Fuku and Alamgir's former employer Bareburger,
As Lunchbox builds off of a big 2020, the young CEO outlined three priorities for his next 12 months: telling the company's story internally and externally, making sure his team is happy and hiring new talent, which is the daily duty he loses sleep over.
In between random "look at my puppy!" comments, Alamgir wasn't all bombast and bluster. He referenced his days as a busboy and occasional delivery driver, and how the future of this industry needs to include those at the lowest end of the pay scale—something Lunchbox literally took into its own hands on the streets of its home in New York City for one lucky driver who received a $1,000 tip from the company.
However challenged the restaurant industry is right now, his overriding belief is that restaurant people will solve these many problems, not the investor class—and the same goes for his ongoing task of growing his team of 65 employees.
"We look for people who are gritty, people who remind me of restaurant people, which is, they will roll up their sleeves and get their hands dirty," Alamgir said. "But now we're also looking for people with all of those things, but also experience, because I am a first-time founder and I would love some experienced gray-hair people, or no hair. Gray- or no-hair people to be in the room and advise and guide us."