Having stocked up on groceries earlier than most, the Kaiser household is getting tired of diving into the pantry and chest freezer for each meal. To keep the liquor flowing, refill our stock of baking essentials and bring in a pair of family-style meals for the week, we used a third-party liquor store delivery service and curbside pickup from Kieran's Kitchen, a local cafe in Minneapolis that also serves as a market selling high-quality meats, breads and cheeses, among others. 
Both experiences offered what we needed the most, while offering a glimpse at a future where more stuff than ever is sold via curbside pickup or third-party delivery.
Kieran's Kitchen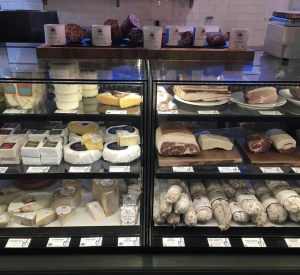 We were out of eggs and craving the red-hot excitement of baking after a hard day's work. Also not wanting to venture inside a grocery store, we hit up Kieran's Kitchen, which happens to be one of our favorite restaurants in the city. Offering everything from local prepackaged coffee to ultra-high-end charcuterie boards, this cafe-market hybrid feels especially prime for this moment of extreme social distancing.

Ordering our food couldn't have been easier, with native delivery through Toast on the Kieran's website. Given the choice of pickup, delivery or something scheduled for later, the menu offers meals meant for couples or intimate parties of four to be heated up at home. Available meals included stewed mushrooms and corn with roasted potatoes ($16) for two, pancetta meatballs with marinara and bread ($20) and baked gnocchi with pork bolognese and cheese curds ($20), along with sandwiches, soups and salads. 
We chose the pancetta meatball meal, which included bread from Baker's Field Flour & Bread, which is located in the same building. For tomorrow's lunch, we also went with an onion soup and pork broth ($9) and a dozen locally organic eggs for $5. The total came to $43.52, which felt more than fair. 
Driving up to the dedicated parking time at noon sharp, I just had to call the facility so they knew to pop out with my meals. No fuss, and quickly on my way back to home base. I'm very grateful for such high quality produce available alongside really high-quality meals designed to leave a couple with some leftovers without having to get out of the car.  
One thing that could improve: we didn't know how exactly to prepare our pancetta meatball meal. It came as a tin of pre-cooked meatballs with a little sauce that directions said to heat in the oven, but after that we were lost. Use the sliced (excellent) bread as an open-face sandwich? Boil some pasta to go with that, even though there wasn't much sauce? Seeing a picture, or even the briefest of descriptions for how to present the meal would have gone a long way. For what it's worth, it made four fantastic open-face sandwiches.
Drizly Alcohol Delivery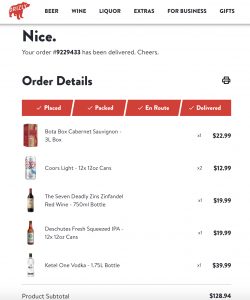 Honestly, getting some wine, booze and cheap beer into the house was a higher priority than food, since "some" in our house feel we may have stocked up on food at the expense of entertainment. At FOD reporter Nick Upton's suggestion, we had to get creative since most liquor stores within a quick driving distance have been ordered to close. 
He recommended Drizly, which is a third-party delivery service based in Boston that calls itself the world's largest alcohol marketplace. It promises no markup from the local liquor stores it delivers from, and is currently operating in more than 100 cities in the U.S. and Canada. Liquor stores hire the drivers for the service directly, so it's a different model than, say, DoorDash or Grubhub. 
As you would imagine, Drizly has seen a 300 percent surge of orders brought on by widespread social distancing, so here's one new-age brand making hay in the rain. 
A three-liter Bota Box of cab, a 12-pack of Coors Light cans, a run-of-the-mill bottle of zinfandel, a 12 pack of Deschutes Fresh Squeezed bottles and a 1.75 of Ketel One cap to a subtotal of $128.94, which felt reasonable. Tax added almost $13, with a store charge of $4.99 (waived on promo) and a 20 percent tip brought the grand total to $161.05—doable in this collective pinch, but certainly not affordable. 
I'll add that my better half wants to try his creative hand at some vodka infusions this week, so there's a little entertainment built into that price. (I'll believe it when I see it.) 
The real bonus was the speed of delivery. Sourced from Clocktower Liquor, just a few minutes from our house, the order was delivered to our door—with no driver-customer contact—in less than 40 minutes. It was second only to my first-ever third-party restaurant order in sheer delight. We celebrated our resourcefulness well into the night. 
Reflecting on the bill, like the hangover of any good alcohol-based experience, I can't say that we'd be using Drizly once life goes back to normal. That said, should a Kaiser house rager ever run low on provisions, I wouldn't hesitate to use Drizly to keep the wheels on the bus.
Or, you know, I could also just walk to the store.