Starship Technologies' autonomous delivery robots have surpassed the 10 million km mark (over 6 million miles) in distance traveled across the world.
Starship says this is a "milestone" and "industry first," claiming it to be the farthest traveled than any other company in the industry.
 To scale, the startup notes how international self-driving car developers Waymo and Cruise recently announced their 1-million-mile mark. 
The company launched in 2014 by Skype co-founders Ahti Heinla and Janus Friis and began making commercial deliveries five years ago. The company's fleet has now grown to over 2,000 completing more than four million deliveries globally.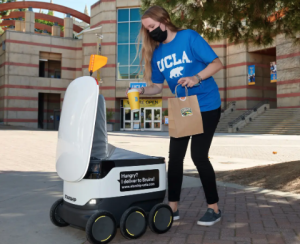 "When we started developing delivery robots in 2014 many thought it was the distant future," said Ahti Heinla, co-founder and CTO of Starship Technologies. 
"However, fast forward to today and our robots are now an integral part of daily life for millions of people around the world," Heinla added. 
The zero-emission bots use a combination of machine learning AI and sensors to travel on sidewalks and navigate around obstacles. Items delivered range from packages, groceries, or takeout from stores within a four-mile radius. Customers can drop a pin to where they want their deliveries sent and track the robot's travels in real-time. 
In addition, Starship is also celebrating a company record, with one of its bots completing 24 deliveries in 16 hours without human intervention or oversight. 
"These milestones are a recognition of the progress we continue to make as the market leader for autonomous delivery, and we remain as committed as ever to making the last mile of delivery more efficient, cost-effective and environmentally friendly," said Heinla. 
The main hub for deliveries are campuses across the U.S. including Notre Dame, Arizona State University, UCLA, and George Mason University, to name a few. The bots are also present in several UK neighborhoods.