Starship Technologies is on a triumphant roll as the delivery robot provider announces raising $100 million in the last 30 days, including its most recent $42 million Series B funding round. Together, these funds will help Starship further scale its autonomous drone delivery service and launch in new cities and campuses.
The San Francisco-based company also received a $57 million investment from the European Investment Bank, bringing the company's total funding to $202 million. Its investors include Nordicinja, Taavet+Sten, TDK Ventures and Goodyear.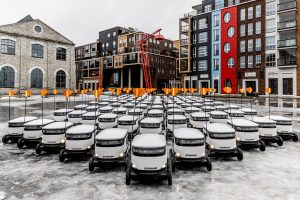 It's not the only good news for one of the leaders in the autonomous robot delivery space. Starship tripled its delivery volumes in 2021 and is continuing to gain momentum as the entire autonomous delivery expands. According to Facts & Factors, the size of the autonomous delivery robot market is expected to reach $55 billion by 2026 with a CAGR of 20.4 percent.
As part of its funding announcement, Starship said it's expanding operations to a variety of locations including Pleasanton in the Bay Area, the University of Tennessee, Knoxville, South Dakota State University and the University of Idaho, among others. Some of this funding is also going to "support people by donating directly to the Red Cross in Ukraine."
To date, Starship has completed more than three million commercial autonomous deliveries, which it claims is more than any other autonomous delivery company. It currently operates a fleet of more than 1,700 robots every day, which it says also makes it the world's largest fleet of autonomous delivery robots.
The company says its delivery costs "are now lower than the human equivalent, which is believed to be a world first for any robot delivery company, whereas most others are still majority human controlled and in pilot mode."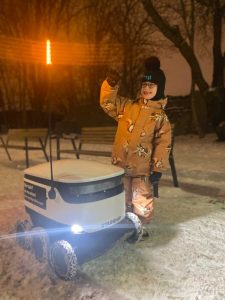 "Everyone is talking about how to fix the issues with last-mile delivery," said Shinichi Nikkuni, managing partner of NordicNinja VC. "Time and again, Starship has proven itself to be years ahead of others with world leading autonomous driving technology for sidewalk delivery, leading to accumulating more and more data and experiences through much wider commercial operations. There aren't many companies that have a truly autonomous service that has earned so much customer loyalty and adoration. We think Starship has found the right formula for success on a global scale and are excited to be part of their future journey."
"We have always been committed backers of the engineering ingenuity budding from the Estonian tech scene, and Starship takes this literally further than anyone: to the millions of miles around the planet these robots have already covered. And many hundreds of millions more, as they have passed the crucial milestone making robot delivery more cost effective than human equivalents," added Sten Tamkivi, investing with Taavet Hinrikus through its Taavet+Sten partnership.
TDK Ventures is so proud of the rapid growth and success Starship has accomplished in a few short years," said Nicolas Sauvage, TDK Ventures president. "Our pride runs deep, as they were the very first investment we made. We use the term 'king of the hill' for startups that we feel are at the top of a small emerging market, and in our estimation are poised to become world leaders in massive markets within five to 10 years. Starship was our first king of the hill. With #1 industry positions today in a variety of metrics—number of paid deliveries, of autonomous robots, of kilometers driven, data and more—Starship continues to trail-blaze the way. We are excited to be part of their journey and join this new funding round."
"The autonomous delivery market has been gaining momentum the past couple of years and we think it will really take off this year," said Alastair Westgarth, CEO of Starship Technologies. "The demand for Starship's services continues to rapidly increase and we are regularly contacted by more college campuses and cities that want our services, often because they hear about the great results that Starship is already delivering. I'm impressed with every member of our team who believes in what we are doing and has helped us hit yet another milestone of three million commercial deliveries. I also appreciate the investors who trust our vision and who are helping us get to the next phase of our journey."