Starship Technologies' Chief Commercial Officer Ryan Tuohy says it's finally time for delivery robots to go mainstream at significant scale. With more than four million autonomous deliveries completed, he says this is the inflection point where "it's no longer a science program, it's no longer research and development [and] it's no longer a pilot to show that you can do something."
In an industry that's been told for years that deliveries by ground-based bots and aerial drones are just around the corner, Tuohy says "we are in a massively different place of adoption" compared to when he joined the company from OpenTable just five years ago.
Referencing an episode of Guy Raz's "How I Built This" podcast, he said this moment resembles the plant-based meat industry a few years back where the product finally improved to a point where some meat lovers preferred Impossible and Beyond to the real thing.
"That's such an insight into when you actually have product-market fit to a disruptive scale," Tuohy added. "It's not like we're willing to use you. No, we'd rather use you, and we're going to put you in places where you can't do this otherwise without you—that's actually where we are now."
Compared to other automated delivery providers that are investing heavily to build their own marketplaces, Starship is focused on plugging into existing delivery apps like DoorDash and Uber Eats rather than competing with them.
He added that the increasingly compelling economics of Starship's devices mean the largest U.S. delivery providers are now signing contracts to bring large fleets of delivery robots to the streets and sidewalks of the American market.
"Let's be honest, it's about money," Tuohy said. "It used to be that it cost us so much to do it that we couldn't bid them competitively or, if we bid them competitively, we lost so much money on every delivery that we didn't have enough capital to scale. That doesn't work, we're not there anymore, so we are writing big-number contracts."
Reaching a critical mass
As a global enterprise with full-time employees around the world, San Francisco-based Starship operates in a variety of countries where the physical and regulatory landscapes are far different than its home country.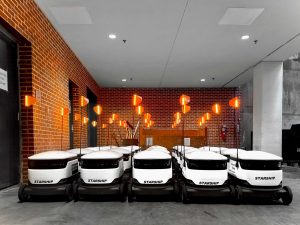 Rather than replacing contracted drivers en masse, Starship sees future delivery solutions as multimodal, where robots are one part of the logistics package—but not operating in geographies and occasions where cars, bikes or delivery associates on foot will remain the most efficient option.
In October, Grubhub announced a partnership with Starship to bring delivery robots to five additional college campuses, joining a list of more than 25 U.S. campuses where its robots are already providing deliveries—with many more campus announcements to come. That latest deal came eight months after Starship raised $100 million to expand and accelerate its growth within the autonomous delivery space.
"I'm super excited about the Grubhub integration, because it has always been part of the plan for us to be a logistics modality in multimodal delivery ecosystems," he said. "We built the Starship consumer application as a way to get to market quicker, not as a long-term strategic requirement for the company."
While autonomous partnerships in campus environments have garnered a regular drumbeat of industry headlines, Tuohy stresses that the real, larger opportunity is in cities—but possibly in what he called a "donut" beginning just outside central business districts.
"The U.S. campus ecosystem is just something we saw that's really unique to the U.S.," he added. "You don't see these types of residential-academic environments with closed-food ecosystems outside of the U.S., so for us it was a really natural place as a first mover that we wanted to make sure we had established ourselves."
The donut strategy
Since its founding in Estonia in 2014, Starship says it has expanded far beyond its nearest competitors. In recent months, Starship robots are crossing roadways approximately 150,000 times a day. Tuohy says that is "far more" deliveries than all other autonomous delivery efforts in the world combined.
"It's worth pointing out that it's very easy to make a robot go around the block and take a meal with it," he added. "Look mom, no hands, you know?"
Outside of campuses, Starship—co-founded by one of Skype's creators—feels that the densest, most urban settings will remain better served with human-based delivery solutions. When the company talks to large-scale delivery providers, "they want to use us outside where there's less liquidity of people."
That means that first-ring neighborhoods adjacent to city centers and suburbs are where delivery apps see the greatest need, where the supply of drivers is less consistent and reliable. That theory is evident in Starship not supplanting existing delivery services thus far, but creating a service where there wasn't one before—Tuohy's donut strategy.
That's also driven by customer perceptions, where even a short delivery journey could require drivers to motor across town to pick up a meal wait for the restaurant to finish an order before driving to the end user. As the pandemic years underscored, customers are less likely to tip when they view the distance between them and the restaurant to be insignificant.
Now that the unit-level economics have reached a breakthrough milestone, the next step is delivery providers signing deals to bring significant numbers of robot delivery vehicles onto their platform through a delivery-as-a-service model.
"What's keeping them up at night, it's once you start getting a mile outside the city center, so in that respect, I know for a fact there's a lot of appetite for scaled deployments in the U.S.," he said.
Of course, the unmanned delivery opportunity is not limited to prepared meals. Whether it's smaller grocery orders or retail goods, the company believes that several sectors of the economy will add automated deliveries into their fulfillment portfolio.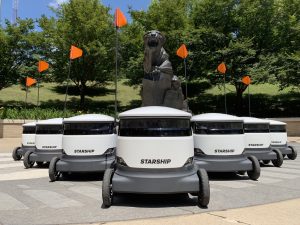 Addressing its own diversification, Tuohy said Starship has a "high conviction around multimodal solutions" and anticipates bringing aerial drones into the mix, as well.
Asked what he'd say to restaurant operators curious about such deliveries, Tuohy said operators should speak with their existing delivery partners and express their interest in robots as a way to possibly shorten the adoption curve for the entire industry.
"I see geographic market entry not being based on a particular restaurant, but initially with aggregated platforms or some sort of a retailer that has enough of a footprint of locations that we could service them," he said. "If you think this might be part of the future solution for you, let your delivery platforms…know that you think this is interesting and you'd like to hear more about it."