Starting with the first Yankees game of the 2023 season on March 30th, Uber Eats began offering in-seat meal deliveries for fans inside Yankee Stadium. It's part of what Uber calls its "Uber Eats at Venues" division, suggesting an expansion of stadium and arena delivery offerings in the future.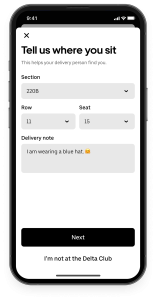 Uber Eats confirmed that fans in Field Level Sections 10 to 130 and the Delta Sky360° Suite at Yankee Stadium can now have beer, Sabrett hot dogs and French fries delivered directly to their seats.
To place an order for in-seat delivery, fans must scan their section's QR code, select their desired concessions, and input their seat section, row and number at checkout. After that, they can sit back and enjoy the game while tracking their order in the Uber Eats app. Once ready, Uber Eats will notify them that their order is on its way and will be hand-delivered to them at their seat.
Uber said that in-seat delivery is currently limited to Yankee Stadium, but added that "it's definitely the next chapter of Uber Eats at events and venues."
With the pandemic changing consumer behaviors and shutting down or changing so many events, many restaurants and delivery providers have placed an increased focus on large-scale stadiums, arenas, campuses and other event centers where large groups still congregate.
Last summer, ASAP (formerly Waitr) signed a new deal with MetLife Stadium, and said that "proprietary in-stadium ordering technology" will soon be available to millions of sports and music fans each year.