This sponsored content was provided by Uber Eats. 
Third-party delivery best practices are seemingly endless these days, but alas, the typical restaurant operator has a finite amount of time to deal with the equally endless challenges of running a restaurant.
Head of Uber Eats Restaurant Operations, Christopher Ager, sought to hone in on a shortlist of impactful third-party delivery strategies. Ager said by focusing in a few key places, restaurants could better capitalize on the megatrend toward food delivery regardless of the delivery platform.
"I get really excited about the ability for delivery to unlock growth for a restaurant business. But there are key things to think about to set yourself up for success to create customers that are loyal to the business," said Ager.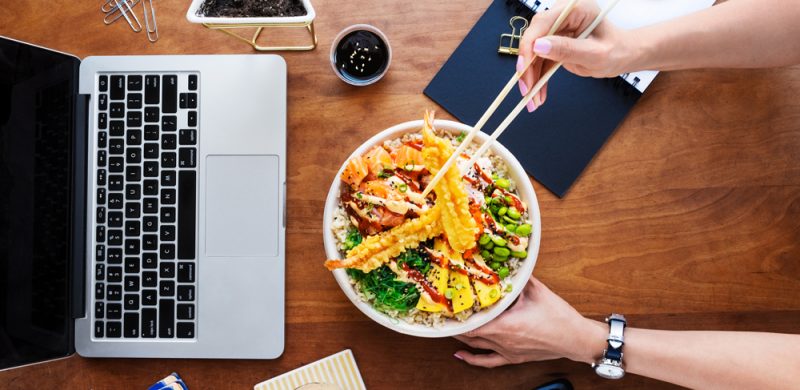 Massaging the Menu
One of the biggest opportunities Ager discussed was how to tailor the digital menu to put out front the food that travels the best and generates the most margin. That can help keep diners happy and restaurant delivery profitable. Unlike the early days, delivery platforms are less apt to require the exact restaurant menu or price at this stage of third-party growth, and Ager had some suggested places to focus.
"Restaurants can make a lot of menu decisions," said Ager. "While we help build the menu that restaurants want, I'd advise that each of our partners think deeply about what they want to offer to their delivery customers."
He said many operators think of their delivery outlet as almost a new concept. That means nearly limitless creativity and the ability to utilize restaurant staples in novel ways.
"You don't have to stick with just what you do in the restaurant. Some performers are really thinking about what works best and creates a really good experience," said Ager. "There are a lot of opportunities to think about special items and combos. We actually see delivery orders are a great way to increase basket size because delivery consumers are often ordering for a group or multiple people."
Combos that combine entrees or bundle travel-ready sides can make it easy for diners to order what the restaurant wants to deliver. He said high-end restaurants can expand their delivery audience with specials and delivery-only items. A steakhouse, for instance, likely won't see a lot of $40 filets being delivered, but a steak sandwich combo hits the same core proficiencies and ingredients in a delivery-friendly format.
Customizations are especially important. In a restaurant, a customer may say they want curry with extra meat and mild spice, but if that's not built into the entrée as simple options, there's a higher likelihood of mistakes and unhappy customers.
"If someone has to input text, there's a higher rate of defects," said Ager.
And if there are a lot of side options to go with an entrée, don't let them get lost at the end of the ordering process, "You can add those as modifiers as a main course because eaters will often decide to add those to their meal," said Ager.
Once the perfect delivery menu is put together, restaurants can test, test and test some more. It can be as simple as putting it all in a bag and waiting 15 minutes or giving that soup container a driving adventure to see if it holds up to the rigors of delivery.
As for managing your margin, you can be strategic about where they are on the menu, diners tend to pick items and combos that are high on the menu. You can also guide consumers to your higher margin items by pairing them with attractive photographs, pulling them to the top of your menu, and building combos and modifiers that prompt consumers to increase their basket size, as well as add on high-margin sides and beverages.
Learn more about partnering with Uber Eats here.
Operational Ease
One of the most challenging things about a high-volume of delivery is that all those orders come during the dinner rush. So if that delivery soufflé is keeping in-restaurant diners waiting for their dinner, 86 it.
"Think about building a delivery line that is easy to execute," said Ager. "A lot of orders can come in when consumers really want delivery. For example, rainy Sunday nights can be very high volume, so think of things to do that don't interrupt restaurant operations."
This process is part menu optimization and part common sense. If a delivery steak sandwich is doing well but slowing down in-restaurant service, maybe it should be simplified for delivery. If cheese is melted under a broiler, for instance, simplify by just bagging—it has time to melt anyway.
"Every restaurant is different; we have restaurants that do hundreds of orders a day, so the advice differs depending on the restaurant. So you have to tailor it," said Ager. "For high-volume restaurants that are doing a reasonable amount of delivery, running some of the delivery orders on a separate line helps. That allows you to flex to more delivery without affecting in house service."
Even if it's not a full secondary line, a dedicated space to assemble at the very least is a smart option because when in-house customers see that they're being held up by delivery orders, they could get a little annoyed.
He said historical Uber Eats data can be a big help too, as it can be used to track what might be a big delivery day so the restaurant can staff up accordingly or do some extra prep.
"The nice thing about delivery volume, it's pretty consistent, we see consistent times during the week that we display to our partners through our new analytics portal. You can use some of your historic demand to see when you will be busy," said Ager.
Part of that planning is just being informed about what's going on out there when it comes to the next big TV show or the big game, or just some rough weather.
"We see peaks when the weather is bad, or when there are big events around the TV, things like sports or award shows, you can plan on that," said Ager.
The last operational pain point is the all-important handoff. If a restaurant starts generating real delivery traffic, a system or some standard operations can make it easier. A random mess of orders with faint carbon-copy tickets just doesn't cut it anymore.
"I would say three big things are important on the handoff," said Ager. "The first is to have a very obvious place for deliverers to pick up food that is well marked and ideally out of the way of the in-store flow. Restaurants are constrained by real estate, but we've seen a lot of partners set up their front of house space with a rack, especially for high volume locations."
This is also a critical time to ensure that there are no mistakes before it's too late.
"The second is to create a standard operating procedure to check the contents of every order before it's handed over. Each restaurant has their own in-store flow, but making sure someone is responsible for putting orders together can ensure there are no missing items," said Ager.
And finally, to help keep drivers from standing around wishing they could make the delivery, keep things as consistent as possible. Ager said the Uber Eats algorithm helps by determining arrival times based on time of day, week and historic data (along with a number of other factors), but if operations get really slow it can cause issues.
"Where we see a lot of driver wait times are places with super variable prep times, sometimes it takes six minutes sometimes it's 25 minutes, that's when you create issues," said Ager. Consistent prep times can make it easier for delivery-people to arrive right when an order is ready.
Learn more about partnering with Uber Eats here.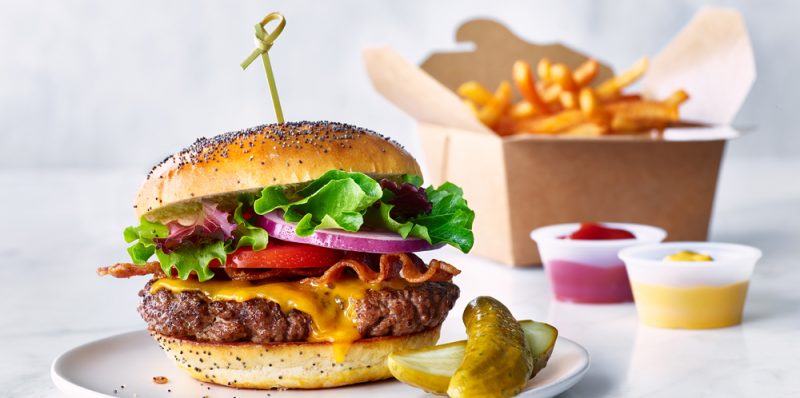 Picture Perfect
One big key to catching the eyes of hungry, couch bound diners is great photography. But it's really an art form, though Christopher Ager has a few tips to get those menu scrollers to land on your restaurant.
"We tried to do some analysis on types of photos, but it's really hard to categorize photos, like how cheesy is cheesy enough?" said Ager.
Maybe one day data will reveal exactly how cheesy is cheesy enough, but until then Ager has some general tips.
"More photos are better, many restaurants have photos of just a few items, but it's always better to cover compelling items," said Ager. "One thing we see is menus with a lot of photo coverage perform better. Consumers tend to order items with photos attached, so that's a great way to drive high-margin and signature items."
So restaurant operators would be wise to get great pictures of what they want to sell because just like in a restaurant, items with photos sell better. So if a restaurant creates a compelling delivery combo, don't slap on the tired shot of the $40 steak that people may not order anyway (even if it's a great-looking steak). That rings true for add-ons as well, don't forget the refreshing fizzy soda or smooth shake that completes the burger and fry combo.
"Even adding things like beverages and modifiers. If it's more visually appealing, and you see higher attachment rate," said Ager.
Taking photos of the delivery-focused combos can push them to top of mind as well, creating a flywheel effect for menu optimization and push out those operationally simple dishes. And it's just a matter of being strategic when it comes to photography.
But also, make sure the photos are accurate. If something gets tweaked for the delivery menu or a menu item is changed, don't forget it. If the food arrives and it doesn't reflect the picture, it looks like a mistake. So be thoughtful about photos, they can really move the needle if done right.
"Spend time here, it feels like an easy thing, but it's worth the investment of your time," said Ager.
The ability to add and update photos is something Uber Eats has recently opened up to partner restaurants. He said it was essential for the company to remove the barrier for restaurants that wanted to be thoughtful about their photography.
Learn more about partnering with Uber Eats here.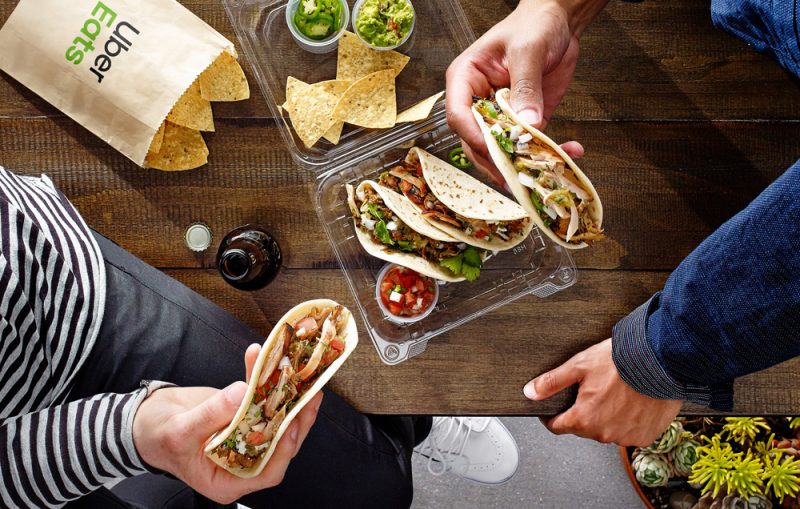 Branding in the Bag
Restaurateurs know the value of their brand, but too many forget branding when it comes to delivery. Instead, they send out deliveries in an unmarked box in an unmarked bag as if they're trying to stay anonymous.
"Because consumers aren't eating in your restaurant, packaging is a great way to create branding and an experience for them. Many restaurants put a lot of thought into their packaging," said Ager. "There's an increasing amount of interesting packaging and it can be a really big value driver for your brand."
And don't stop just at packing that will get tossed in the recycling bin, the best branding reminds customers of the brand with every bite.
"I think partners are being really thoughtful about the packaging not only to give a quality product that ties to the brand, but as you sit down to eat keeping that brand top of mind," said Ager.
He pointed to a pizza brand that went all out, using a special delivery box that transforms into a plate for diners at home, the park or the office. It doesn't have to be a big investment either, something as simple as a card, a flyer, a branded stamp on delivery packaging or a coupon for the next visit can go a long way. But definitely get some branded stickers for a little food safety piece of mind and temperature control.
"Always seal your bag, that's super important and I think just a good best practice," said Ager. "Given the speed of delivery, insulated bags may not have much of an impact on temperature, but a sealed bag can make a big difference."
It also shows the consumer that you've checked and sealed the order before handing it off, and warm food and peace of mind are both nice branding strategies.
About Uber Eats
Uber Eats is an on-demand food delivery app and website that helps bring millions of people around the world the food they want, at the tap of a button. We partner with over 200,000 restaurants in 350 markets across 36 countries and six continents to offer meals for every taste and occasion. From specialty local favorites to everyday national brand names, Uber Eats offers millions of dishes, reliably delivered fast and fresh in as little as 30 minutes. Learn more about partnering with Uber Eats here.[/et_pb_text][/et_pb_column]
[/et_pb_row]
[/et_pb_section]