Above: Ghoster Head of Operations Shane Womack and Head of Culinary Chef Nick Barr
Ghoster is the latest early-stage virtual restaurant provider promising that a focus on operations and technology will make the difference for restaurants bringing new brands into their kitchens. Now moving from stealth mode into validation, the company views its platform as a mix of technology to manage operations, data and insights to ensure offerings fit the market and brands that won't become commodities, like the increasingly crowded delivery wing space.
Co-founder and CEO Scott Drummond says he's motivated to help restaurant operators with operations that are stable and already have loyal customer followings. He insists that virtual restaurants are the ideal solution at a time when, he contends, nobody should be spending money building new restaurant infrastructure.
"Personally, I don't think anybody should ever spend a dime on building a new physical kitchen," he said, looking beyond the pandemic. "There's no reason to be signing leases, building kitchens, investing capEx. There's more than enough infrastructure to produce better operating models and better branding models for this industry, and that's the premise of what Ghoster is all about."
Even with a number of players already in the virtual restaurant scene, Drummond says the industry is only beginning to see the potential of this new operating format. It's not just about what cuisines will connect with customers and have staying power beyond that initial marketing boost. He and his team of a half-dozen employees are thinking more broadly about not just matchmaking appealing delivery-only brands with excess kitchen capacity, but thinking of new ways to create food and get it to customers or delivery drivers "at exactly the right place for everybody to be happy.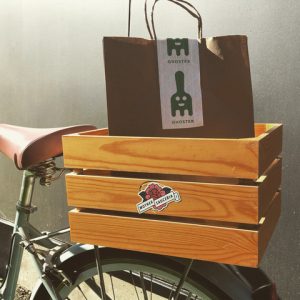 With six to eight brands still in development, Ghoster has completed development on five virtual brands including Mother Sauceria, Papa Steak Frites, Tacos Madre, Cousin Chicken, underscoring that they're all members of a family and designed to fill gaps that still exist in the wider delivery ecosystem.
"We're looking at opportunities to curate the brand mix for host restaurant partners based on very targeted local markets," he added, getting into its back-end brand and market analysis that is a key part of the company's differentiation. "It gives you the ability to curate it by local market, and if aspects of it evolve as a market evolves, then the host has the ability to change the mix and change the combination of brands."
He uses the analogy of a local apparel retailer that focuses on a stronger master brand, but then pairs that with sub-brands that can shift or be swapped out as trends and customer buying patterns change over time.
"We're using data to define what's coming next so we can start to allow them to utilize their customer base and their capEx investment, their physical infrastructure in much the same way as an apparel brand," Drummond added. "Why not be anticipating the next trend and be deploying it in your local market before it even becomes popular? Then you're ahead of the game, and we think that's a great analogy for how virtual brands will start to be executed."
Culinary art + demographic science
The business case for virtual restaurants tends to focus on the lift it can provide to struggling restaurants looking to quickly fill excess capacity, but Ghoster is exclusively looking for host restaurants that are already in a healthy place with a loyal following, rather than looking for a "Band-Aid for a struggling operation."
Whereas a larger franchise system or big independent operator like a Brinker International or Lettuce Entertain You would likely build something like this with their own resources, Drummond said, sophisticated local or regional operators could use virtual restaurants to drive frequency, give their customers new culinary options and, most critically, allow them to satisfy diverse tastes all within one delivery ticket, which has become increasingly important as both the rise of the convenience economy and the pandemic have forced so much of the industry into off-premises channels.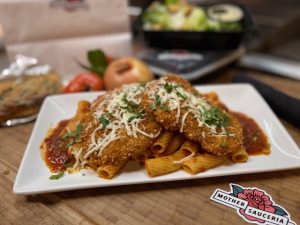 Drummond said the company is too early-stage to release detailed financials, but he said it's a commission-based operation that charges "nowhere near the numbers you see from these third-party delivery marketplaces." The company's initial testing with an operator in the Dallas market has, thus far, shown it's possible for Ghoster to make a serviceable profit at the same time as the host restaurant, which is the key to long-term stability as it begins to scale in the coming months.
Its website pegs startup costs at approximately $3,000, with no commission charged until 100 percent of those startup costs have been recouped by the host restaurant.
Even with so much competition in the space, he stressed that the category is still far from saturation and says the key is looking at how many kitchens are still out there for the taking–meaning there's a long-term growth story that's still yet to unfold in the months and years to come.
Having data in hand and at the ready will be especially important if and when things begin to shift as new supply hits the market and vacant restaurant spaces once again fill with shiny new restaurants.
"As we build this out and have more data coming in, we're going to be able to expand the model into predictive and personalized [analysis] so we can start to do some of those things I was describing … about being ahead of the trends and being ahead of what customers want," he said. "There's a lot of people doing virtual brands. It's the wild west, which is fine, make it the wild west. The key differentiator is understanding the data and getting the right insights to compliment the art with science."