Domino's is streamlining its pickup service by introducing an app for Apple CarPlay that lets customers order directly from their cars.
The feature displays a simplified version of the pizza app on vehicle dashboards, offering two ordering options: "tap to order" which lets users submit their saved favorites and recent orders or "call to order" where orders can be placed hands-free by speaking to a customer service representative.
The goal is to sway consumers away from waiting in drive-thrus and instead choose a convenient pickup experience.
"We know how frustrating it can be to wait in a drive-thru line just to place an order. Domino's app on CarPlay is a great alternative to that, as customers still have the convenience of staying in their car, and can place an order from wherever they are, without waiting in a long drive-thru," said Christopher Thomas-Moore, Domino's senior vice president and chief digital officer.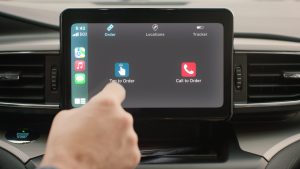 This comes as the pizza giant's delivery sales have slowed. In its latest earnings call, CEO Russel Weiner said the company's same-store delivery sales fell 6.6 percent in the fourth quarter compared to a year earlier as customers "turned to carryout, sit-down meals and home cooking".
The fall may also be attributed to inflation as consumers aim to avoid higher delivery costs.
However, the chain reports that same-store carryout sales are up 14.3 percent, with the channel now representing 40 percent of the company's sales and over half of all U.S. orders.
"The carryout business continues to be a strength, with tremendous momentum. In fact, U.S. carryout retail sales for the full year 2022 were more than $1 billion higher than pre-COVID levels," said Weiner in an earnings call. "More importantly, we still have a long runway for growth in this important segment of the business."
In addition, Panera and Dunkin' have also integrated with Apple CarPlay, as fast-casuals look to be part of the growing car e-commerce market.
In an interview with Food On Demand, Karl Goodhew, chief technology officer at BurgerFi, said he believes this kind of technology will "become universal in the following years" in discussing why the burger chain "got in early" with in-car ordering. BurgerFi partnered with the system MAVI On My Way to offer dashboard ordering services in January.
According to a report by Allied Market Research, the automotive e-commerce market is expected to reach $176.24 billion by 2031, at a 17.5 percent annual growth rate through 2031. The findings reference a surge in the use of smartphones, the growth of automotive aftermarket services and the advancement of multiple payment modes.