After years of holding out while Papa John's and Pizza Hut jumped into third-party delivery, Domino's—the world's largest pizza company—has signed a deal allowing U.S. customers to order its products through the Uber Eats and Postmates apps.
Uber Eats will be the exclusive third-party platform for Domino's in the U.S. until at least 2024. The initial U.S. rollout of the agreement will begin this fall in four pilot markets, with ordering on the Uber Eats and Postmates apps anticipated to be enabled across the country by the end of 2023. 
According to the press release announcement, Domino's said orders coming from third-party marketplaces would still be delivered by "the trained delivery experts of Domino's and its franchisees." Given the ongoing difficulty of hiring and retaining delivery drivers, it's likely this would eventually expand to delivery fulfillment by third-party drivers in the future. 
Customers will be able to track their order using Domino's Tracker or through the Uber Eats app. 
"Domino's has a history of successfully entering new marketplaces," said Domino's CEO Russell Weiner. "We are the leader in the delivery and carryout pizza marketplaces in the U.S. In addition, Domino's sells more food on its digital platform than any pizza company in America. Now that aggregators are at scale, the next logical marketplace for us to enter is order aggregation." 
Weiner said the deal is the result of research and learnings from 13 of the company's international markets, and added that he expects that the partnership to deliver "a meaningful amount of incremental delivery orders" once available. 
Analyst expects significant lift
While the terms of the contract are not being released, it's reasonable to expect this is one of the most sizable, complex delivery contracts ever inked—possibly going back to Uber's exclusive contract with McDonald's that was signed in 2017. 
Given its size, Domino's was likely able to demand a very favorable, possibly market-leading commission rate that includes a unique data-sharing agreement.  
Restaurant analyst David Palmer with Evercore ISI increased his firm's expectations for U.S. same-store sales growth to reflect the benefit of third-party delivery site marketing for Domino's. Palmer also predicts that Domino's will also bring its products to DoorDash in 2024, which is included in that upward guidance. 
In addition, Evercore highlighted Domino's relaunched loyalty program, which contributed to raising its price target from $360 to $420. Its report added that these numbers do not incorporate a lift to international sales, even though Domino's notes that there are 27 non-U.S. markets where Uber Eats and Domino's overlap. 
Uber's global reach was likely a significant factor in Domino's choosing to go exclusive with the rideshare giant rather than DoorDash, which is the largest U.S. delivery provider by a significant margin. 
"Because Domino's has already used Uber Eats in many international markets, the incrementality of this relationship is less clear overseas," Palmer wrote. 
Bringing Uber Eats orders to two-thirds of Domino's global stores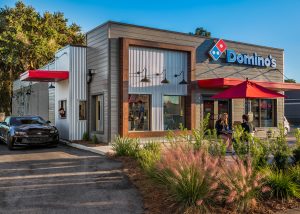 This agreement will also create the opportunity to unify Domino's international markets under a single master agreement that leverages the global scale of both brands. This agreement has the potential for incremental orders from Uber Eats to 70 percent of Domino's stores around the world, including the U.S.
"As the No. 1 pizza company in the world, it is not surprising that Domino's is a brand people have been asking for on Uber Eats' global platform," Weiner said. "Given certain customers only order their delivery from the Uber Eats app, this deal could make Domino's available to millions of new customers around the world. Domino's will still be the face our customers see at the door, while Uber will be providing us with adequate data to understand delivery efficiency and incrementality. Meanwhile, Domino's own e-commerce platform will continue to be the place our customers can go to access our best deals and industry-leading loyalty program."
"Domino's and Uber both have a sustained track record of leadership in technology and innovation," said Uber's CEO Dara Khosrowshahi. "We're excited to announce this unique partnership with Domino's globally—both starting as their exclusive third-party marketplace partner in the U.S. and making their menu available to our consumer base around the world—and we look forward to bringing customers the convenience, technology, and experience that are foundational to both of our brands." 
Domino's international markets that currently do not partner with Uber Eats will begin the assessment process for transitioning this year. Domino's master franchisees currently partnering with Uber outside of the new global contract will be able to transition to the new global agreement before the end of 2023.